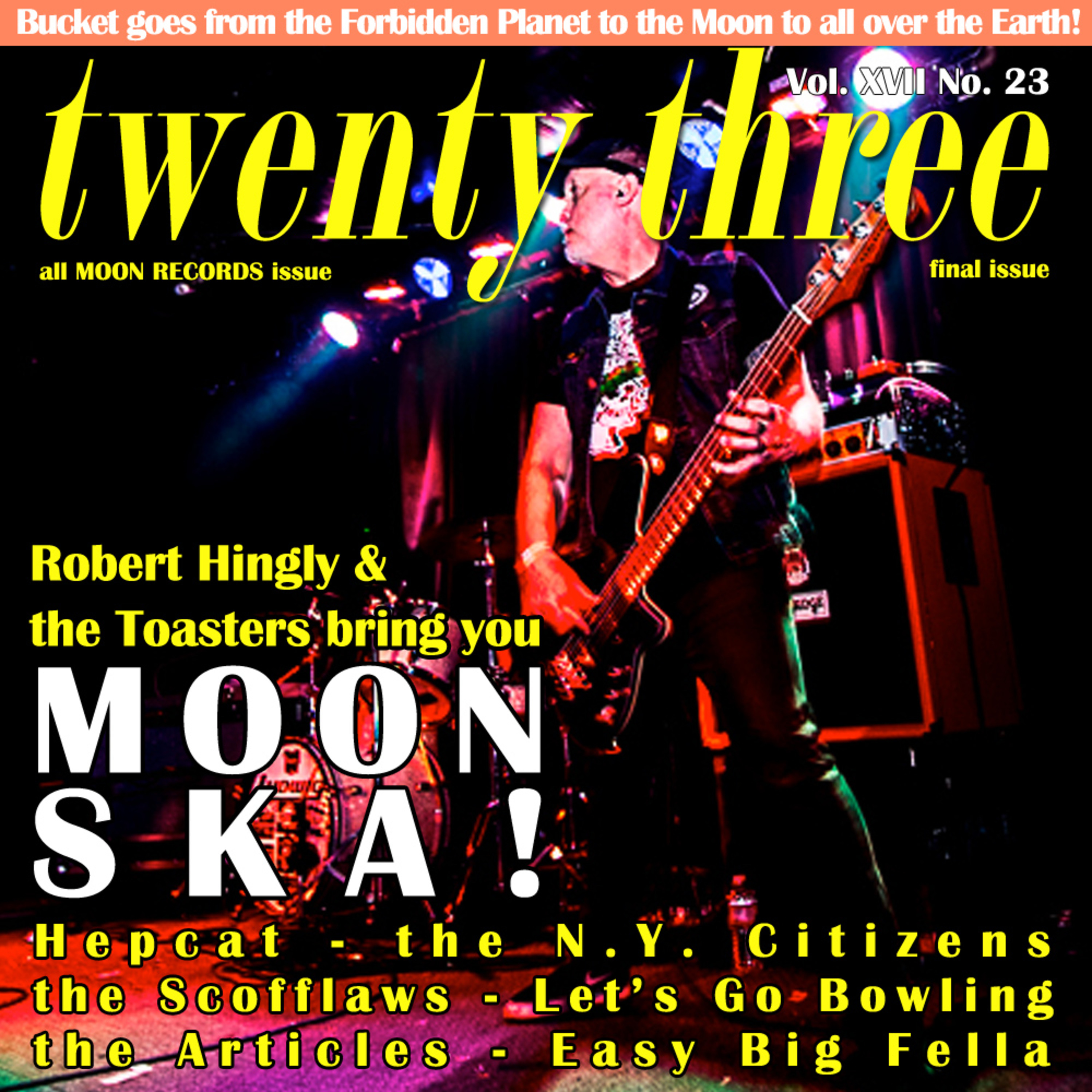 The Toasters album "Dub 56" was my intro into the big world of ska, I will always hold it in high esteem for that alone. Besides, it was a ripper of an album! It started a love of the sound that has never gone away. In my young lust to find more ska music, I took note of the label, Moon Ska, and the label catalog that came with the album. It wasn't long before I was sending away for other CDs that Moon had released. Was I loving every minute of it? You bet I was! Moon was my label for more tradition sounding ska (I went to Dill and Asian Man for my ska/punk and to Jump Up for my local Midwest scene) and I could never get enough. It was a fair time before I met the man behind the label, Robert "Bucket" Hingly of the Toasters. I'm not gonna lie, me and Bucket aren't pals in the least, and he could never pick me out of a line up of 3 goofy white boys, but he's always been a good guy to me. It was years before when I'd see them on tour we'd even talk ska. Honestly, we usually talked about Jack Kirby and his work for Marvel (specifically Silver Surfer) or talk about the other bands on tour. He's a top guy, never made me feel like an idiot about ska history (even when I kind of am) and more than that he's always down to chat. That's what I love about Bucket, he's a man of the people, he's an authority that never feels like it and he tears up the stage! I could talk more about Moon, but this episode really is just a love letter to Bucket. Thank you Mr. Hingly, see you on the road.
00:00 - the Toasters - Dub 56 (Dub 56 '94)
02:41 - Hepcat - the Secret (Out of Nowhere '84)
05:16 - the New York Citizens - the National Front (On the Move '88)
08:00 - the Scofflaws - Back Door Open (Ska in Hi-Fi '95)
10:27 - Let's Go Bowling - You Take Me (Mr. Twist '96)
14:14 - the Articles - Spread Satin (Flip F'real '97)
19:23 - Easy Big Fella - Stuck in the Chapel of Love (Eat at Joey's '87)
Photo Credit to Meredith M. Goldberg
Visit the website at http://www.23Ska.com to find links to band websites and songs featured in this episode.
Find & follow the show on:
Facebook - https://www.facebook.com/23minofSka/
Twitter - https://twitter.com/23minofSka
Instagram - https://www.instagram.com/23minofska/
Stitcher - https://www.stitcher.com/podcast/23min-of-ska?refid=stpr
If you'd like to submit your band for a future show email: submissions@23ska.com
Any other questions or comments, please email: podcast@23ska.com
There's a lot of great ska vinyl out there, so head over to our partners in crime at http://www.GrandpasCasino.com
Also check out our sister podcast the Ska After Party at http://www.SkaAfterParty.com
Session : Seventeen // Episode : 391 // Airdate : December 19th, 2019