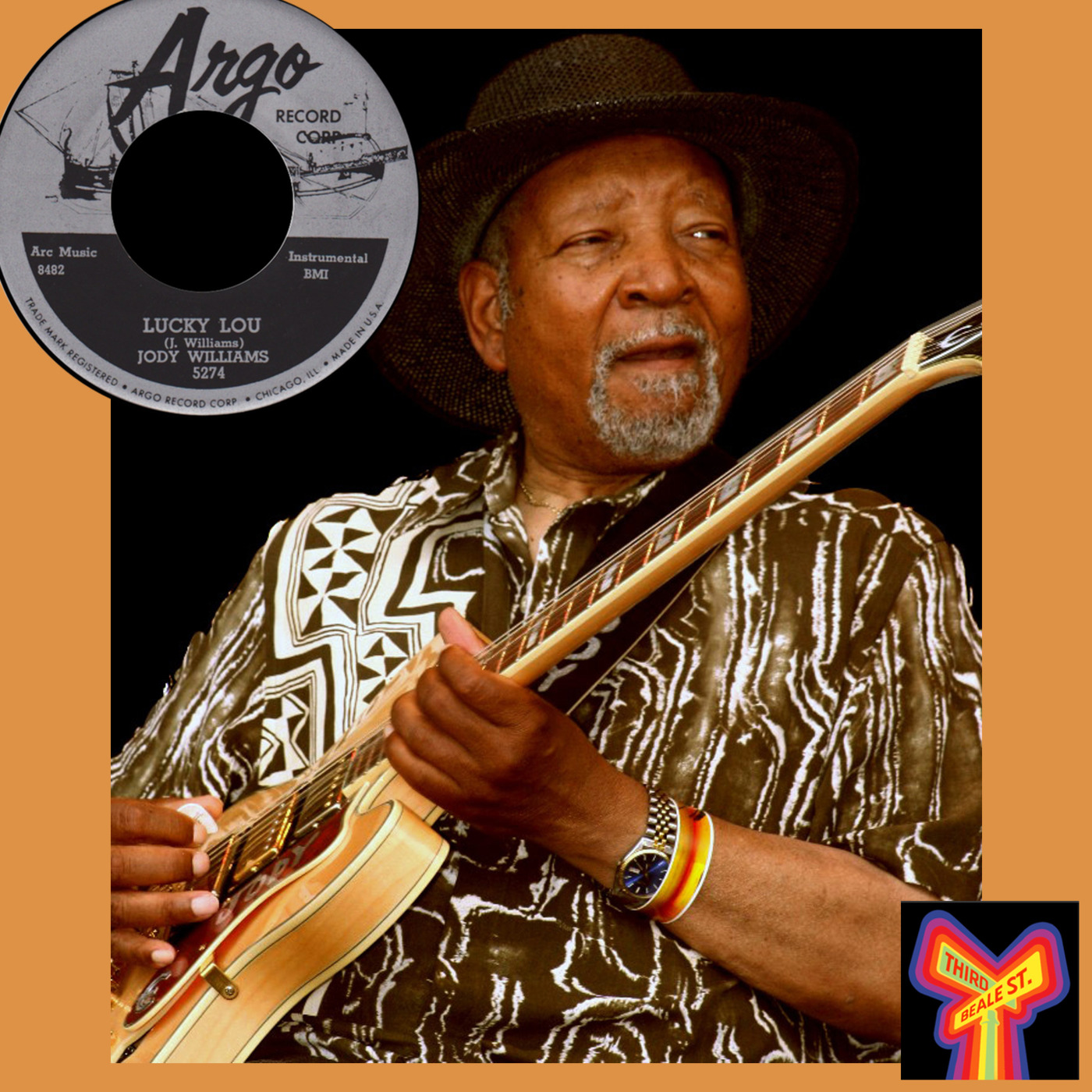 NOTE: This week, the blues world is mourning the passing of guitar legend Jody Williams. This episode was inspired, in part, from having a chance to see Jody play live in concert, in 2013, and the essay that follows was written at that time. RIP Jody Williams - February 3rd, 1935 - December 1st, 2018.


Born in Mobile, Alabama, Joseph Leon "Jody" Williams moved with his family to Chicago when he was just 5 years old. His early musical heroes were the Harmonicats, with their number one smash hit of 1947, "Peg O' My Heart." It was an encounter with Bo Diddley at a talent show that convinced him he should put down his harmonica and pick up a guitar. As he later told writer Bill Dahl, he had never played any blues — but by all accounts, he was a fast learner. Absorbing the guitar styles of T-Bone Walker, B.B. King, and Robert Lockwood, Jody become one of the first important string benders to work in Chicago, influencing such up and coming stars like Otis Rush and Buddy Guy — and playing, recording, and touring with a veritable who's who of blues legends along the way.


It's not many people who can lay claim to being an influential musician starting at the ripe old age of 19, but Jody Williams can, and on this episode of Blues Unlimited, we'll be exploring that legacy in depth.


As far as "string bending" goes, just in case you're not up to date with your guitar lingo, there are two main techniques for altering the pitch of a guitar string while playing. One technique involves the use of a bottleneck or a slide, like Elmore James, Muddy Waters, or Robert Nighthawk; the second is to simply bend the string up or down while playing, a technique employed by such movers and shakers as T-Bone Walker and B.B. King — who also happen to be Jody's two main influences.


Another influence can be felt from Robert Lockwood, who often incorporated a jazzy sophistication that can be heard in Jody's playing as well. Unlike Lockwood, however, Jody's playing also has a gritty quality that fans of Chicago Blues know and love so well — and it's his ability to incorporate these two differing styles into something unique that's made the name of Jody Williams such an important one on the post war scene.


In the late 1960s, Jody Williams quit the music business in favor of a steady day job in the field of electronics, a trade he learned while in the Army. Opting for early retirement in 1994, it wasn't until six years later that he was convinced to pick up his guitar again, resulting in a critically acclaimed comeback CD in the year 2001. Today, Jody Williams is still playing and touring, dazzling audiences with his patented fretwork and understated jazzy guitar runs that made him such a force to be reckoned with on the Chicago scene almost 60 years ago.


Pictured: Jody Williams, in his later years.


We have a BRAND NEW WEBSITE! Check it out at https://bluesunlimitedradio.com


This episode is available commercial free and in its original full-fidelity high quality audio exclusively to our subscribers at Bandcamp. Your annual subscription of $27 a year will go directly to support this radio show, and you'll gain INSTANT DOWNLOAD ACCESS to this and more than 150 other episodes from our extensive archive as well. More info is at http://bluesunlimited.bandcamp.com/subscribe


Don't forget to install the PodOmatic Podcast Player app for iOS so you can listen to Sleepy Boy Hawkins wherever you go! Details at http://itunes.apple.com/us/app/podomatic/id648258566?mt=8