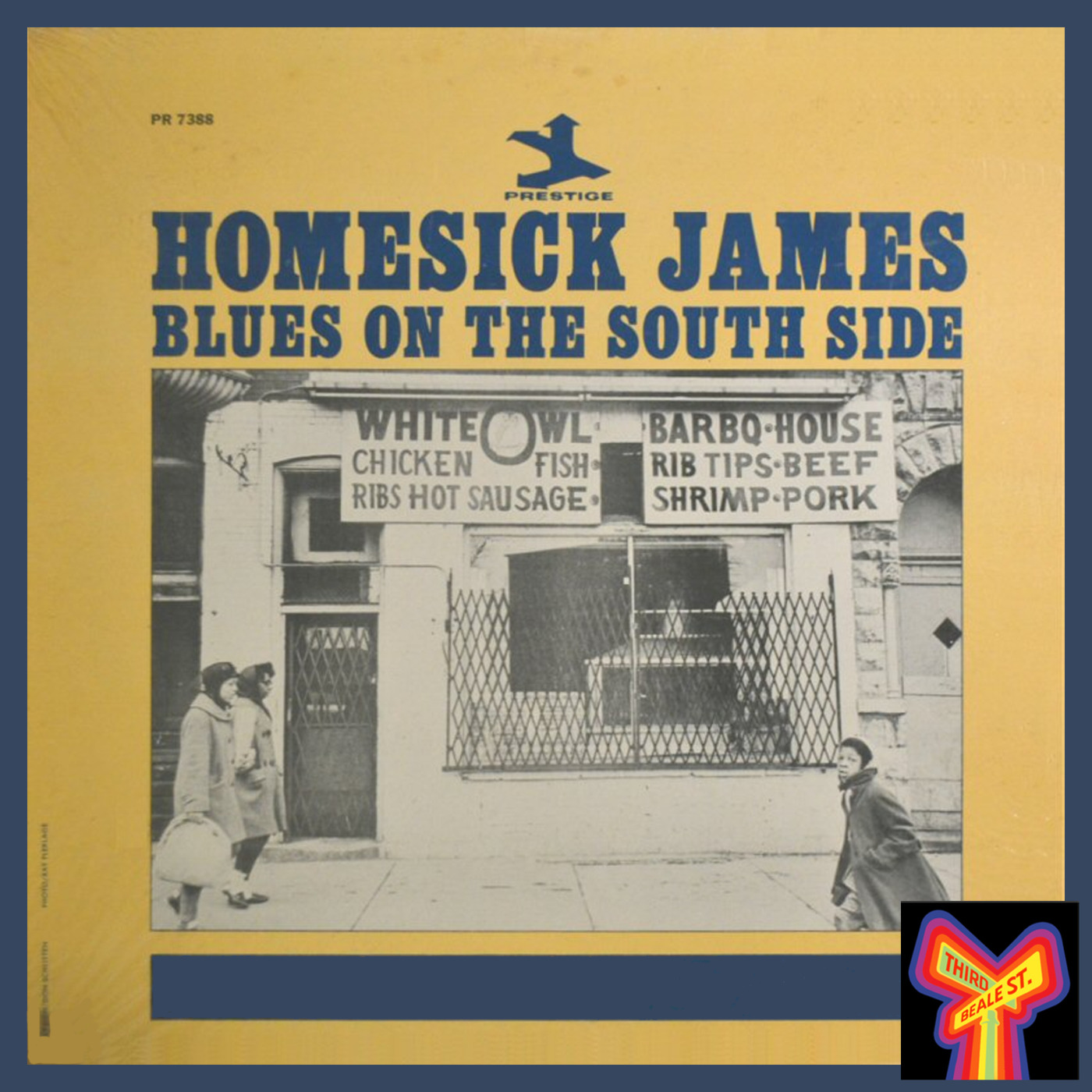 Our final stop through the Bluesville catalog takes us to the Windy City of Chicago, Illinois. On previous installments, we visited the east and west coasts, with stops along the way in Texas and Louisiana, Memphis and the Mississippi Delta, St. Louis, and finally Indianapolis. Chicago seemed like the most logical place to end our journey, although astute listeners will probably realize the bulk of the material on this episode was not actually recorded for Bluesville, but for their parent company, Prestige.


Prestige Records was started by Bob Weinstock in 1949. Using a variety of different subsidiaries, Prestige went on to become famous in the jazz field for their many fine recordings. In 1959, Bluesville was born, and over the space of half a decade, issued nearly 90 LPs. By 1965, however, Bluesville had run its course — most of the recording activity had ceased a couple years previous — and subsequently, new blues material would appear either on Prestige, or on yet another subsidiary called Milestone.


As 1963 was turning into 1964, renowned author, scholar and researcher Sam Charters was on hand in Chicago, where he produced the twin classics, "Blues on the South Side" by Homesick James, and its companion LP by Billy Boy Arnold, "More Blues on the South Side." Subsequently, Charters would also go on to produce "The Blues Never Die," recorded by the Muddy Waters band in New York City, after a low-paying gig left them desperately in need of cash to pay their hotel bill and get back home to Chicago. Since Muddy was under contract to Phil and Leonard Chess — his home record label since the late 1940s — band members Otis Spann and James Cotton handled all the vocals, while Muddy stayed safely in the background. When the LP came out, he was discreetly credited as "Dirty Rivers."


An interesting bit of trivia came to light as we were doing background research on this program. Traditionally, the recording date for "The Blues Never Die" has always been given as November 21, 1964. Yet another date placed it slightly earlier, during the month of October, that same year. As it turns out, the truth was somewhere a bit farther off in the future. In interviews, Sam Charters clearly recalled that Muddy Waters and the band had played Carnegie Hall in New York City, sharing a bill with, among others, Chuck Berry. Thanks to his crystal clear recollection and a searchable online database of Carnegie Hall performances, we now know that Muddy and company were at that revered concert venue between Thursday, June 17, 1965, and Sunday June 20, 1965. Charters remembered making arrangements for the studio date on a Saturday afternoon, placing it on the 19th. A subsequent review of the LP, appearing in the November 1965 issue of Blues Unlimited magazine, would seem to confirm the revised timeline and series of events.


One thing that might come as a surprise, are the few cuts featured from the LP "Slim's Shout," by Sunnyland Slim. Known for his down home keyboard work and authoritative vocals, his 1960 outing for Bluesville finds him in the esteemed company of tenor sax giant King Curtis, at a studio date engineered by legendary producer Rudy Van Gelder. Sounding decidedly breezy and uptown for a change, his Bluesville LP marks a sharp contrast to some of the gritty classics he cut in the immediate postwar years in Chicago, and gives us a glimpse into his flexibility and adaptability as a blues artist.


Finally, at the beginning of hour two, we devote a special section to a handful of recordings produced by Pete Welding. Some of them later came out on Milestone — on a lovely (and hard to find, we might add) collection entitled "Ramblin' On My Mind: Train and Travel Blues," while others wound up overseas on the Storyville imprint, on their four part series called "Blues Scene USA." Had Bluesville still been a viable enterprise at the time these recordings were ready to be issued, perhaps they would've appeared there — but at this late date, that's just purely conjecture.


The Bluesville record label occupies a distinct place in blues history, and in some ways reflects the vibrancy, vitality, and enthusiasm of the Blues Revival of the 1960s. Not only did they issue many fine LPs, just as their parent company Prestige had done, but also on a widely diverse group of performers — some of whom went on to greater acclaim, and some of whom never recorded again. Regardless, their legacy lives on — as does Bluesville — in the hearts and minds of blues fans all over the world.


Pictured: This classic LP, featuring the photographic work of Ray Flerlage, is considered a real standout of Homesick's career.


This episode is available commercial free and in its original full-fidelity high quality audio exclusively to our subscribers at Bandcamp. Your annual subscription of $27 a year will go directly to support this radio show, and you'll gain INSTANT DOWNLOAD ACCESS to this and more than 120 other episodes from our extensive archive as well. More info is at http://bluesunlimited.bandcamp.com/subscribe


Don't forget to install the PodOmatic Podcast Player app for iOS so you can listen to Sleepy Boy Hawkins wherever you go! Details at http://itunes.apple.com/us/app/podomatic/id648258566?mt=8