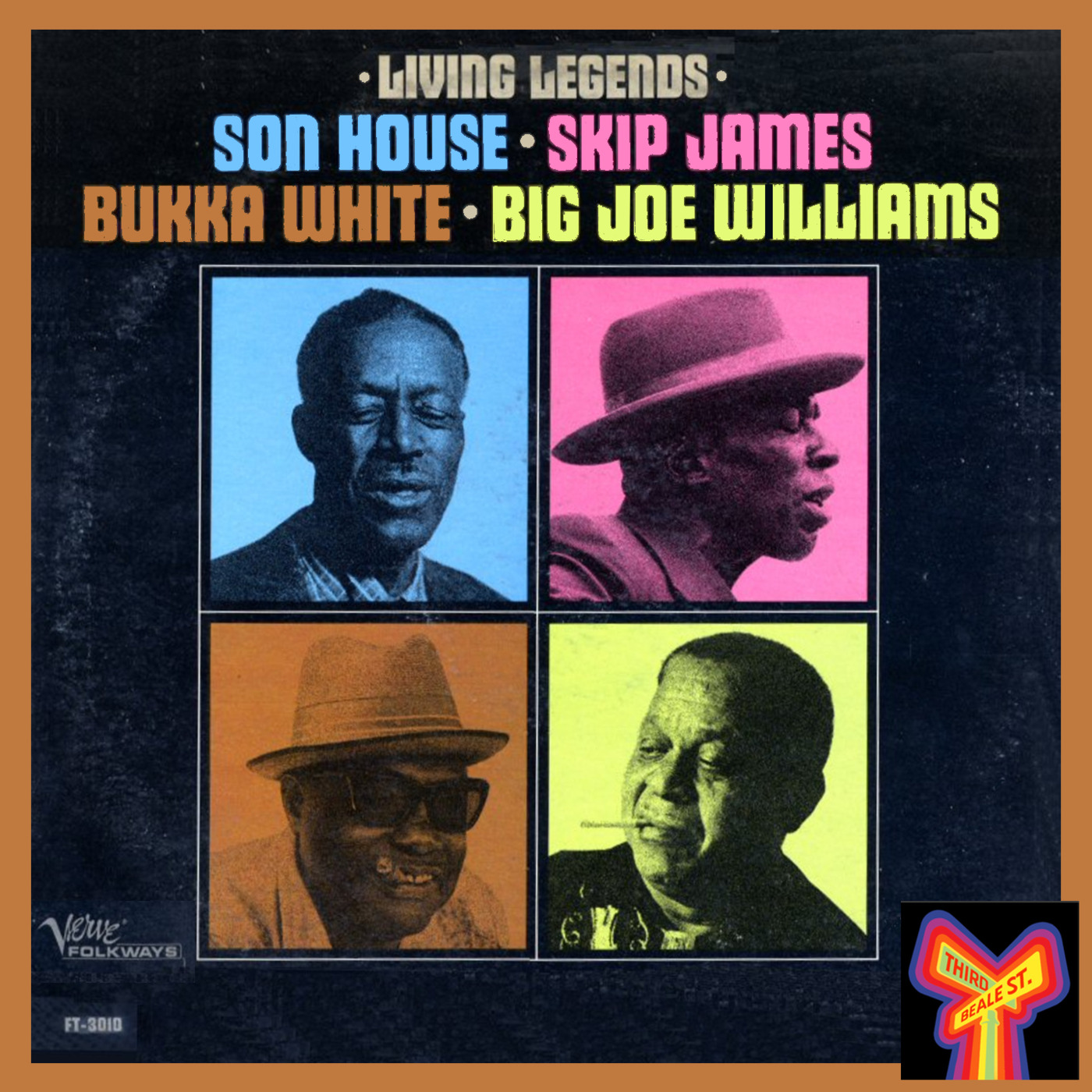 We're pleased to say that all three volumes of "Blues Unlimited: The Complete Radio Show Transcripts" have now been published as eBooks! They're available from Apple Books at https://tinyurl.com/y4rceu7b - Barnes & Noble at https://tinyurl.com/yxkvx6rl - and also available in the Kindle Store from Amazon at https://tinyurl.com/yyuwxbla (And please keep in mind that every dollar from every purchase will help keep an independent voice in blues radio alive and well! And we thank you!)


On this episode of Blues Unlimited, join us as we explore two rare and long out-of-print LPs from the 1960s. The first, "Living Legends" was recorded for the Verve-Folkways label at the Cafe Au-Go-Go in New York City, and features Bukka White, Skip James, Son House, and Big Joe Williams all captured live in performance, from 1966.


The second, "Ramblin' On My Mind" was issued by Milestone in 1965, and is a collection of songs all related to trains and traveling. Recorded by Pete Welding and Norman Dayron, it features riveting performances by Dr. Ross, David "Honeyboy" Edwards, Big Joe Williams, and Johnny Young, as well as a few from some "lesser-knowns" such as John Lee Granderson, Leroy Dallas, Elijah Brown, and James Brewer.


Rounding out the show will be a few selections each from Mississippi Fred McDowell and Robert Pete Williams. One of our favorite LPs from Fred has always been "Long Way From Home," recorded in 1966 in Los Angeles for Milestone, while Robert Pete Williams' "Louisiana Blues," on the Takoma label, has long been a stand-out of his rather impressive body of work.


So sit back and enjoy as we dig into some classic and hard-to-find vinyl gems from the 1960s. On this episode of Blues Unlimited.


AND.... ONE MORE WAY YOU CAN HELP -- BECOME A BANDCAMP SUBSCRIBER!


This episode is available commercial free and in its original full-fidelity high quality audio exclusively to our subscribers at Bandcamp. Your annual subscription of $27 a year will go directly to support this radio show, and you'll gain INSTANT DOWNLOAD ACCESS to this and more than 170 other episodes from our extensive archive as well. More info is at http://bluesunlimited.bandcamp.com/subscribe