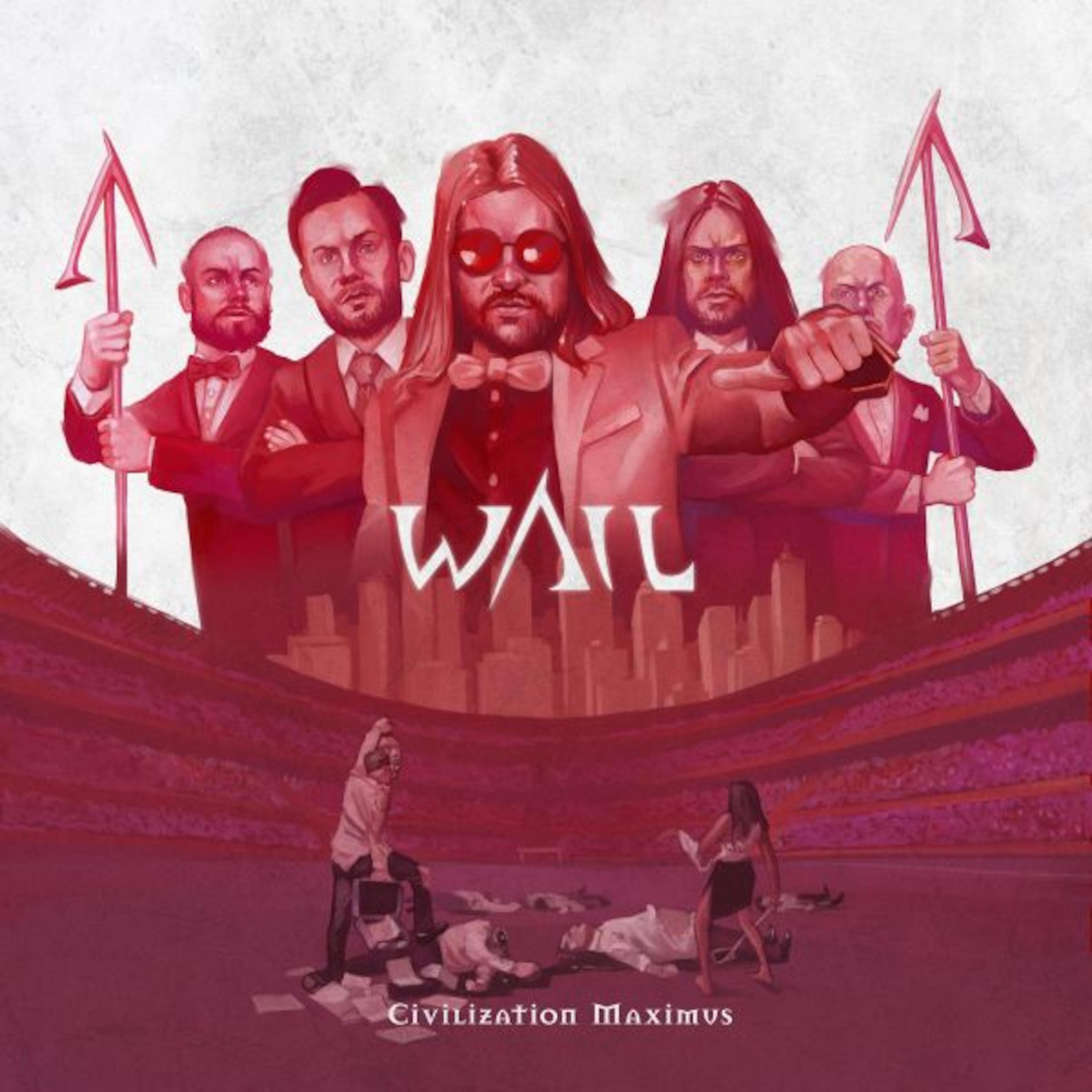 ~C A C O P H O N Y~
Christchurch's very own HEAVY METAL radio show on...
RDU98.5FM Tuesday's 10pm-12pm
Radio Addington 107.5FM, Friday & Monday at 10pm.
Listen or Download CACOPHONY at www.cacophonynz.podomatic.com
We're on Facebook! [Who isn't?] www.facebook.com/cacophonynz
www.metalradio.co.nz to hear the best Metal Radio NZ has to offer...
On CACOPHONY this week the Lost Messiah features Wail from Norway and Laser Dracul from Sweden. New metal from Lazer Beam, Alestorm, Neck Cemetery, Tension Rising, Grave Digger and Primal Fear. Plenty of NZ Metal tracks to make sure you don't forget we're a NZ Metal show!
Wail [Norway] [Speed] - Civilization Maximus [2020]
www.wail.no
www.wailofficial.bandcamp.com
www.facebook.com/wailofficial.no
www.wormholedeath.com
Speed Playlist
Primal Fear - My Name Is Fear
Decode The Design [NZ] - Chaos Lanes
Grave Digger - Barbarian
Stalker [NZ] - Total Annihilation
Wail - Down The Mountain
Wail - Endless Repetition
Wail - Presage
Wail - Through The Ice Bulletbelt [NZ] - Impaler Tension Rising - Find The Betrayer Neck Cemetery - Banging In The Grave Shepherds Reign [NZ] - Concrete Walls Azimuth [NZ] - Murder The Defeatist RAM - Violence (Is Golden)
Laser Dracul [Sweden] [Stoner] - Hagridden [2020]
www.laserdracul.bandcamp.com
www.facebook.com/laserdracul
www.shelteredlifepr.com
Stoner Playlist
Lazer Beam - Damn The Reptiles
Osmium [NZ] - Empty Bottles
Laser Dracul - Ashes And Dust
Laser Dracul - Into The Night We Go
Laser Dracul - Now You See
Laser Dracul - Ill In Spirit Beastwars [NZ] - Wolves And Prey Do - Atmosfear Helhorse - Avalanche Stonehurst [NZ] - Can't Get Away Torche - On The Wire
GIGS - send your Gig Listing to gigs(at)cacophony.co.nz
*Gigs are on hold again due to Level 1+ Covid Plague controls throughout NZ. Guide is listed here for informational purposes only.
Tue 10th Nov @ VALHALLA [Wellington] - Stoned Jesus [Doom, Ukraine] and Somali Yacht Club
Wed 11th Nov @ WHAMMY [Auckland] -
www.utr.co.nz
Sat 14th Nov @ ISAAC THEATRE [Christchurch] - Violent Femmes [Punk, USA]
Mon 16th Nov @ OPERA HOUSE [Wellington] -
Tue 17th Nov @ LOGAN CAMPBELL CENTRE [Auckland] -
www.ticketek.co.nz
Mon 16th Nov @ STUDIO [Auckland] - Helmet [Alt Metal, USA] - 30th Anniversary Tour
Tue 17th Nov @ MEOW [Wellington] -
Thur 19th Nov @ CASSELS BLUE SMOKE [Christchurch] -
www.utr.co.nz
Sun 14th Feb 2021 @ POWERSATION [Auckland] - Steel Panther [Rock/Metal, USA] - Heavy Metal Rules Tour
www.mjrpresents.com
Mon 22nd Feb 2021 @ HORNCASTLE ARENA [Christchurch] - Faith No More [USA] with RVG [Oz]
Wed 24th Feb 2020 @ SPARK ARENA [Auckland] -
www.frontiertouring.com/faithnomore
Fri 4th Jun 2021 @ SAN FRAN [Wellington] - Chelsea Wolfe [Gothic Doom, USA] Birth Of Violence Tour
Sat 5th Jun 2021 @ GALATOS [Auckland] -
www.utr.co.nz
Contact CACOPHONY
www.twitter.com/cacophonyradio
eMail requests2020(at)cacophony.co.nz
sMail CACOPHONY, POBox33044, Barrington, Christchurch 8244, New Zealand.