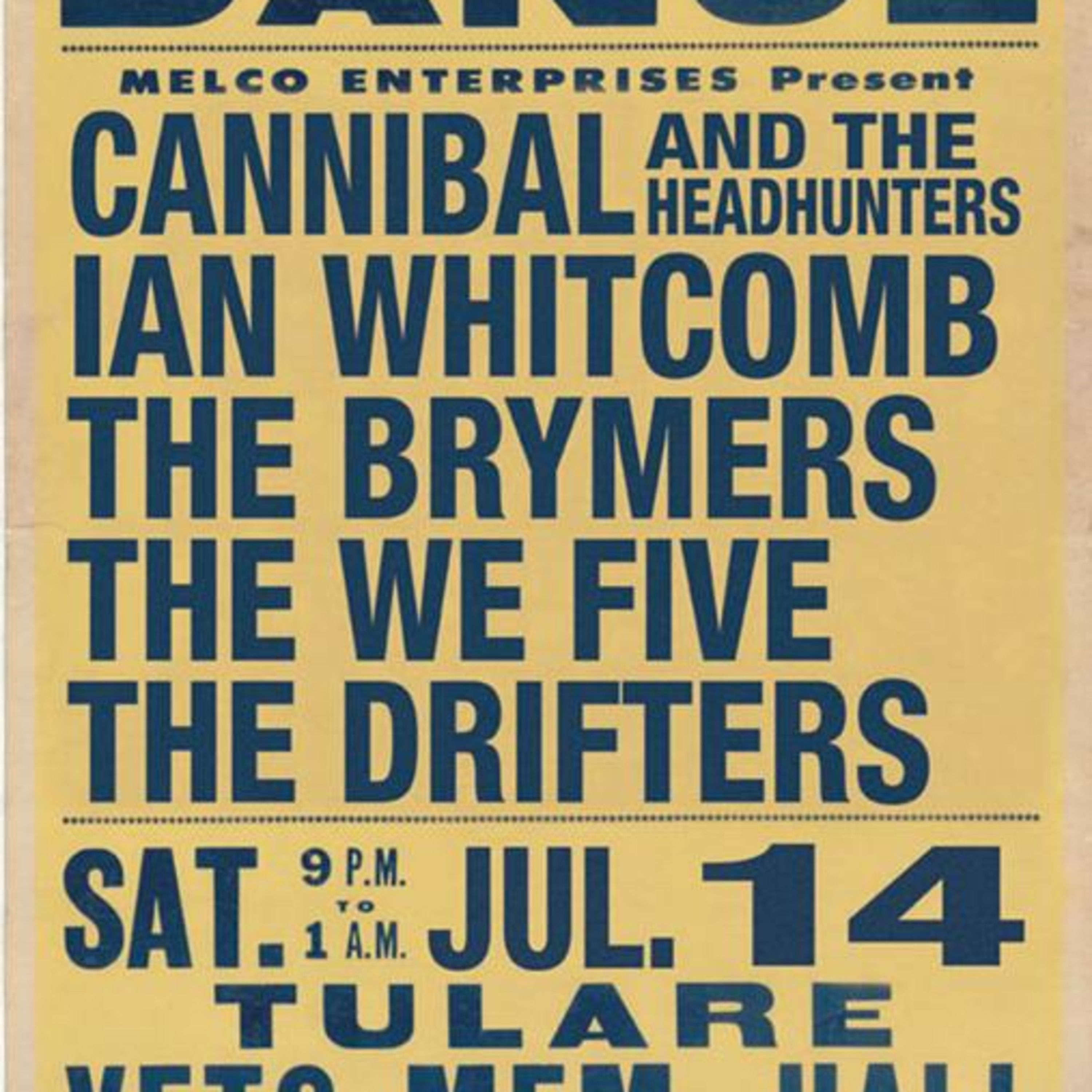 *Sounds of the San Joaquin *
The poster on the left is from a "MELCO DANCE" held in Tulare, CA (circa - 1965).
PLAYLIST
TIME TITLE ARTIST ALBUM
00:00 DJ DICK LEE AND THE ICEMAN ID
00:28 WHAT I'D SAY THE BRYMERS 40 YEAR BROTHERHOOD
01:13 DO YOU THINK YOU LOVE ME THE BRYMERS 40 YEAR BROTHERHOOD
02:18 SPOT

02:34 GREAT BALLS OF FIRE BRYMERS 40 YEAR BROTHERHOOD
03:25 SHOW ME BRYMERS 40 YEAR BROTHERHOOD
04:25 DO YOU WANT TO DANCE BRYMERS 40 YEAR BROTHERHOOD
05:42 DEVIL IN A BLUE DRESS MITCH RYDER AND THE DETROIT WHEELS SINGLE
07:28 GOOD GOLLY MISS MOLLY MITCH RYDER AND THE DETROIT WHEELS SINGLE
09:31 SPOT

10:27 SPOT

10:35 MY GIRL THE TEMPATIONS SINGLE
12:53 PROMO-LIKES SHOW

13:52 SPOT

14:11 UNDER MY THUMB APRIL SILVA SINGLE
16:30 REQUEST

19:10 BLACK MAGIC WOMAN SANTANA SANTANA
22:20 MUSTANG SALLY THE COMMITMENTS THE COMMITMENTS
25:30 SPOT

26:23 REQUEST

27:11 DUKE OF EARL GENE CHANDLER SINGLE
29:24 INTERVIEW (P.1) WOODY BELL SEDATE SUNSHINE COLONY
36:47 COMING HOME SEDATE SUNSHINE COLONY COMING HOME
40:22 SPOT

42:08 SPOT

42:41 SPOT

42:47 THE SHACK AL GARCIA AND THE RHYTHM KINGS SINGLE
45:55 SHAKE, SHOUT AND SOUL LIL RAY SINGLE
48:47 OH GIRL THE SHI-LITES THE SHI-LITES
51:46 SPOT

52:04 BONY MARONI LARRY WILLIAMS SINGLE
55:02 LIGHT MY FIRE DOORS DOORS
58:42 HOLD ON I'M COMING THE BRYMERS THE LOVE FROM OUR SOUL
"Dick Lee and 60's Garage Rock from California" is a weekly one hour show that features great California Garage Rock along with the hits of the day. Take a romp through the 60's with Dick Lee and the Iceman and hear some cool garage music from the decade of the 1960's.
The show can be heard on KOOL 104.5 FM-Saturdays-12:00 noon (PST), Amsterdam International Radio, WYML 99.9 FM (Chicago area), M.A.D. FM - New Zealand, Replay Radio FM - U.K., and Way Out Radio FM - U.K., Experience FM 103.9 - Indianapolis, 60's Chart Busters -Cyprus, KCEG- N.D., Supreme VIB-Z Radio-Jamaica, So Faking Radio-Arizona, KOGY 95 FM-Hawaiian Pacific Radio, The Rock 97.3-Morro Bay, CA, Atlantic Radio FM-U.K., Riot Radio-Maryville, IL, Black Hole FM-Milford, CT., Community Radio-Long Island, NY., KEWL 98 FM-New Jersey, Akaroa World Radio-90.1 FM-New Zealand, FAB Radio Internation - Manchester, England, Classic Rock XL, Ontario, Canada, Northern Pirate Radio, HD Radio Network, Dealfield, Wisconsin, KHJ FM 105.3 - Albany, Oregon, Canal Side Radio, U.K., Remember Then Radio WRTR, U.S., Sixties City Garage Rock, U.K., 57 Chevy Radio, NWCZ Radio (Seattle-Tacoma), WCNX 1710 AM (Middletown, CT), KRYZ 98.5 FM (Mariposa, CA), WCSQ 105.9 FM (Cobleskill, NY), Brill 1449 Radio (U.K.), WZPH Radio (Dade City, FL), SG1 Radio (U.K.), Radio Flawless (New York), KWRH (St. Louis, MO), KWCZ (Seattle, WA). KITZ (Gilchrist, OR), KNCP (LA Pine, OR.), KZSR (Paso Robles, CA.) KOWS Radio (Sonoma County/Santa Rosa, CA), Heat FM Radio (NY), Griffiti Radio (U.K.), Bay and Basin 92.7 FM-Australia, ZUNJ Radio (Jamaica), Dusty Discs Radio (B.C., Canada), The Phoenix Radio Network (U.K.), KCIW 100.7 FM (Brookings, OR), Q95 Oldies (S.C.), KALH Radio (N.M.), KSHD-FM, (OR), Mystery Train Radio (U.K.), Drive-In-A Go-Go Radio (Ontario, Canada), E.K FM Radio (U.K.), Rebel Radio (U.K.), GR8 Chats Radio (U.K.), Thunder Radio Canada (Ontario, Canada), Total Mixx Radio (Virginia), Veterans Family Radio (U.K.), KSVB 91.4 FM (Big Bear, CA), Destiny Radio (U.K.) Fantasy Radio (U.K.), Curve Radio (U.K.), Beatz Radio (Bangladesh), Ambron Radio (U.K.), Curve Radio (U.K.), Fantasy Radio (U.K.), Ohio Broadcast Network (Columbus, OH), Solar FM (U.K.), Sho Off Radio (U.K.), Max Radio (N.Y.), On Air Hits (TX), Sea Wall Radio (Galvaston, TX), Now Hits Radio (U.K.), Cruize Radio (Australia), Urban Essex Radio (U.K.), and Corvette Retro Radio (Athens, Ohio).