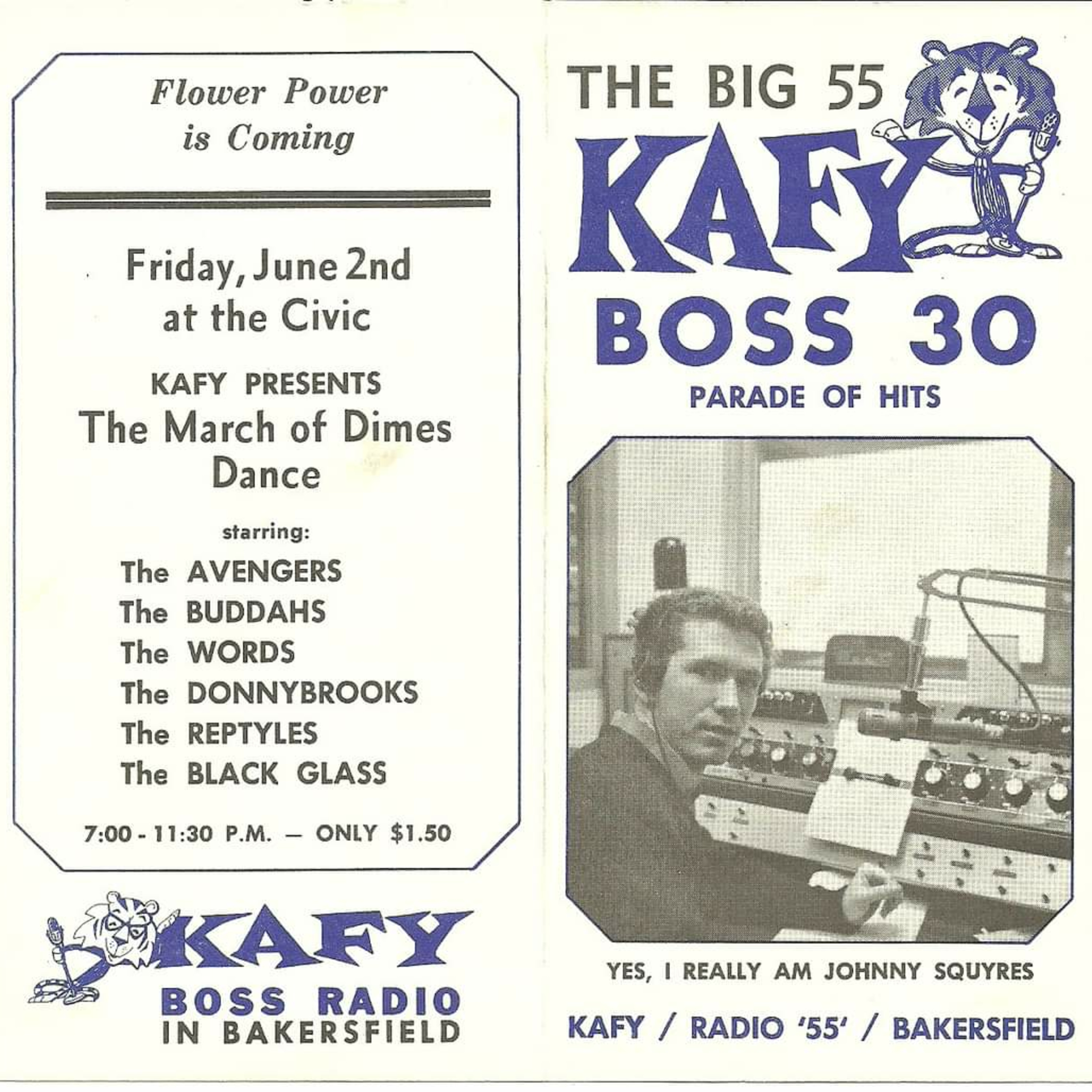 THEME: Great Female Artists.
The poster on the left is of a 60's teen dance held in Bakeresfield and sponsored by radio "KAFY." Note, the price of admission!
PLAYLIST:
00:00 DJ DICK LEE AND THE ICEMAN
00:28 WHAT I'D SAY THE BRYMERS
01:13 DO YOU THINK YOU LOVE ME BRYMERS
02:57 PLEASE MR. POSTMAN MARVELETTES
06:02 WHEN WILL I BE LOVED LINDA RONSTADT
09:04 DA DOO RUN RUN CRYSTALS
12:22 WHIRLWIND REV-LONS
14:56 I HURT SO QUINN TEENS
18:03 I'M A GOOD WOMAN COLD BLOOD
21:29 JUMPIN JACK FLASH ROLLING STONES
24:45 BROWN SUGAR ROLLING STONES
28:42 UNDER MY THUMB APRIL SILVA
31:04 INTERVIEW (P.5) WAYNE MATTESON (RUMBLERS)

37:13 BOSS RUMBLERS
40:58 THE WORD IS FREE SEDATE SUNSHINE COLONY
45:09 SUNSHINE OF MY LIFE JEANNIE SANDERS
48:46 ANGEL BABY ROSIE AND THE ORIGINALS
51:55 WHITE RABBIT JEFFERSON AIRPLANE
54:40 ROCK ME BABY JOHNNY WINTER
57:18 HEARD IT THROUGH THE GRAPEVINE GLADYS KNIGHT AND THE PIPS
59:15 HOLD ON I'M COMING BRYMERS
"Dick Lee and 60's Garage Rock from California" is a weekly one hour show that features great California Garage Rock along with the hits of the day.