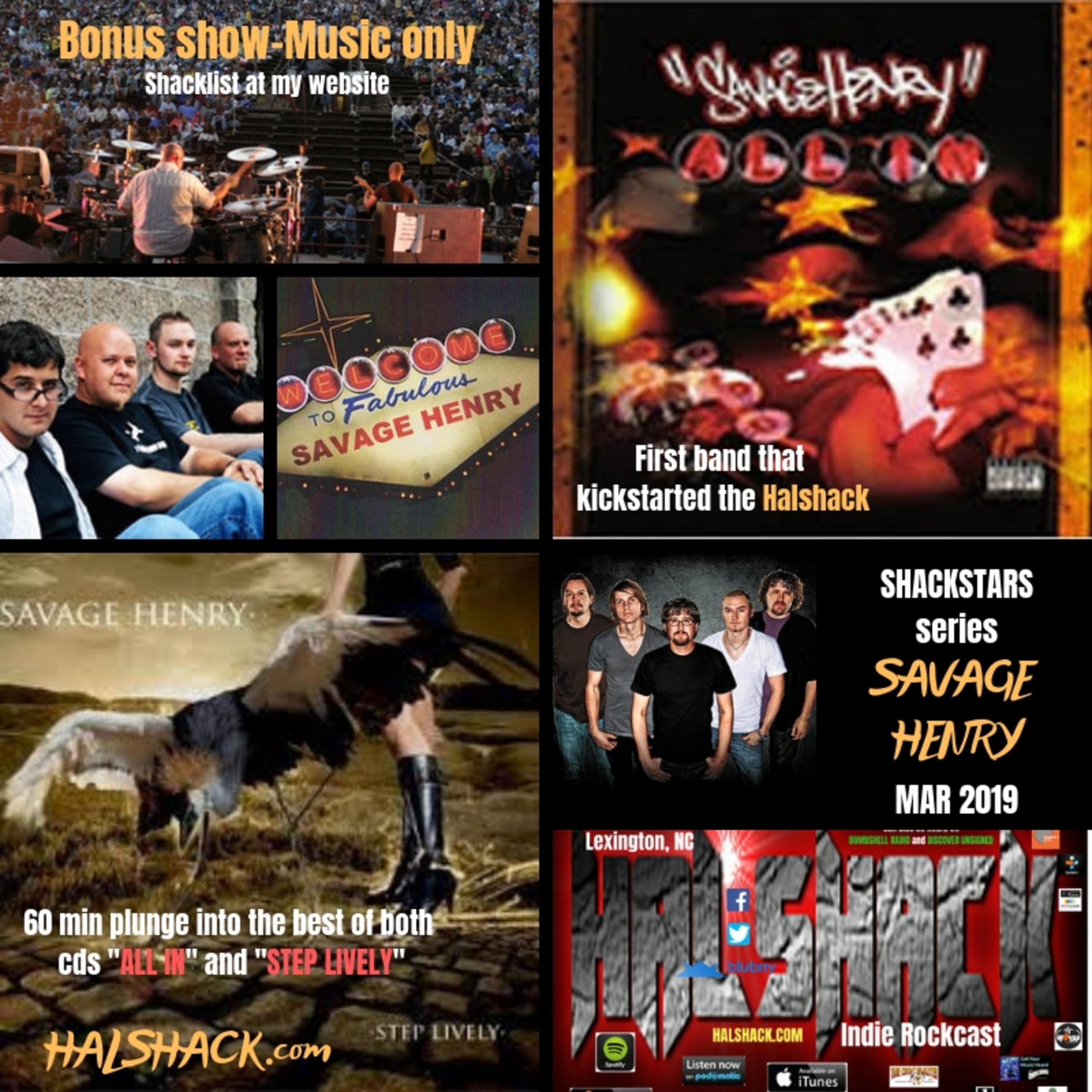 WELCOME TO THE FABULOUS SAVAGE HENRY!!
Halshack (Shackstars series) SAVAGE HENRY- Mar 2019 (bonus show- music only)
Hi again everyone..surprise!! Im back with another show for March. I know the end of VERBAL ACTIONS has you sweltering and drooling for more Savage Henry then you've come to the right place.
Life may have forced your hand to look elsewhere for love and respect in your life. Life may be great for you and you may have found never-ending happiness. Whatever the case I hope life is kind to you and opens doors for your future should you feel that same passion as I to change your life and give it meaning, purpose and value. My journey started 20 years ago with a "little" but mighty band from Denver, Co. (ON SECOND THOUGHT) lead singer my buddy and friend Damon. I found love through the music of this wonderful beloved band from high in the rockies.
They forever changed my life. A few years later the original act disbanded and the singer and current drummer at the time co-founded a newer tighter well produced and carefully skilled version of this band and together they formed the clandestine SAVAGE HENRY.
Taken after the poetic and yet disturbed writings and teachings of Hunter S. Thompson (FEAR and LOATHING IN LAS VEGAS) Damon cautiously and painstakingly writes the most catchy hooky songs and Stu Miller blends his magical axe laden skills into a fun delve into deep provocative thought yet adds a layer of fun to their arrangements that just cant be found anywhere in today's music.
This band was the ultimate kick-starter for me and my career. This act has allowed me to build a solid reputation to build my name and earn much respect along the way. Savage Henry and On second Thought will be forever immortalized here at the Halshack. One day when I become a record label then maybe the whole world can enjoy this band as I have for the past 20 years.....
I put together a best of playlist from both of their cd releases "ALL IN" and "STEP LIVELY" (you will notice a subtle shift from ska to more rock with the 2nd album, still great!!)but did not include Alive and Kickin' from All In since it was just played at the end of Verbal Actions (Mar 2019).
So as I look back at my life and reflect on my roots and looking at starting over again with new beginnings. If you folks want to know what makes the Halshack tick and what drove my passion for life, love and music. Then look no further cause this is absolutely the funnest good time rock/ska/pop influenced freakin' band you will ever hear!! Guaranteed or my name is not HALSHACK!!
SIDE NOTE....song "MONKEY" from a ALL IN features MEGADEATH owned 7-string guitar (STU MILLER-guitarist) purchased this guitar from the axe man for MEGADEATH and featured only in the song MONKEY. COOL ASS SONG!! and what a great funky riff written by Stu. WELL DONE GUYS!! HATS OFF TO SAVAGE HENRY!!