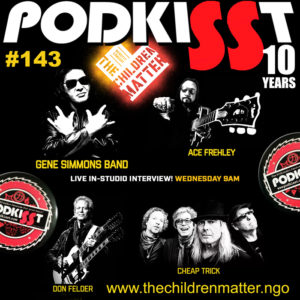 Donate at www.thechildrenmatter.ngo
On Sept 20, 2017 Gene Simmons & Ace Frehley did their first interview together in 16 years on the KQRS Morning Show at 9am for a LIVE in-studio interview
They were joined by Don Felder & Rick Nielsen of Cheap Trick.
These rock & roll legends will be performing at The Children Matter Benefit Concert Wednesday night at CHS Field along with Cheap Trick and Minnesota's own The Jayhawks and Flipp.
The Children Matter is a collaborative initiative founded by Simmons and Matter, a nonprofit organization that states that its mission is to expand access to health and food to people around the world; all proceeds from The Children Matter Benefit Concert are planned to go toward Matter's relief efforts in Houston for children and families affected by Hurricane Harvey.
Rate us on iTunes,
"like" us on Facebook,
and join the "PodKISSt Army!"
Join the conversation!
www.facebook.com/groups/Podkisst/
https://www.facebook.com/groups/thekissroom/
https://www.facebook.com/PodcastRockCity/?fref=ts
Get a PodKISSt/KISSROOM! shirt here
http://www.redbubble.com/people/designsbyken/collections/314385-kiss-art
For a limited time, you can get your own KISS ROOM and PodKISSt buttons, FREE!
All we ask is that you pay shipping and handling of $3 for one/$5 for two.
• Purchase via PayPal: zilchorders@gmail.com
(Leave your name and number of buttons and which kind you are ordering in the note/instructions field)
Visit www.muttmerch.com for cool Rock & Dog shirts!