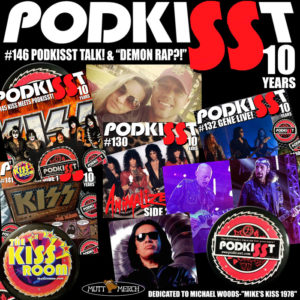 You tell us your fav episode from this year, A Gene Rap song? NOT Gene?! KISS Talk & More.
This episode is is dedicated to Michael Woods AKA Mike's KISS 1978. Thank you for your service & friendship. This is the age of PodKISSt!
Rate us on iTunes,
"like" us on Facebook,
and join the "PodKISSt Army!"
Join the conversation!
www.facebook.com/groups/Podkisst/
https://www.facebook.com/groups/thekissroom/
https://www.facebook.com/PodcastRockCity/?fref=ts
Get a PodKISSt/KISSROOM! shirt here
http://www.redbubble.com/people/designsbyken/collections/314385-kiss-art
For a limited time, you can get your own KISS ROOM and PodKISSt buttons, FREE!
All we ask is that you pay shipping and handling of $3 for one/$5 for two.
• Purchase via PayPal: zilchorders@gmail.com
(Leave your name and number of buttons and which kind you are ordering in the note/instructions field)
Visit www.muttmerch.com for cool Rock & Dog shirts!

"KISS ALIVE FOREVER-A complete touring history"
get your hands on a digital copy of the book via Apple's iBooks store.
https://itunes.apple.com/us/book/kiss-alive-forever/id1218506426?mt=11