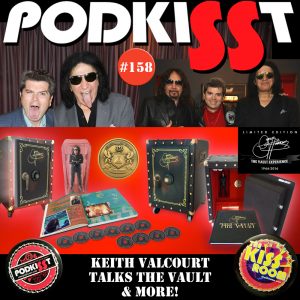 Keith Valcourt stopped by to talk the "GENE SIMMONS VAULT" The Australian "Vault" experiences with Ace,Gene and the GENE SIMMONS BAND! (You guys are in for a treat!). We discuss his KISStory , his being a fan and what is coming up next! Never a dull world with KISS!
Get the GENE SIMMON'S VAULT here
http://www.genesimmonsvault.com/
This is the age of PodKISSt!
Rate us on iTunes,
"like" us on Facebook,
and join the "PodKISSt Army!"
Join the conversation!
www.facebook.com/groups/Podkisst/
https://www.facebook.com/groups/thekissroom/
https://www.facebook.com/PodcastRockCity/?fref=ts
Get a PodKISSt/KISSROOM! shirt here
http://www.redbubble.com/people/designsbyken/collections/314385-kiss-art
For a limited time, you can get your own KISS ROOM and PodKISSt buttons, FREE!
All we ask is that you pay shipping and handling of $3 for one/$5 for two.
• Purchase via PayPal: zilchorders@gmail.com
(Leave your name and number of buttons and which kind you are ordering in the note/instructions field)
Visit www.muttmerch.com for cool Rock & Dog shirts!