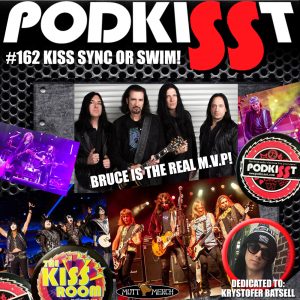 Join Ken Mills (PodFather), Gary Shaller (Garasite) & Author Julian Gill from KissFAQ.com as we talk the last month or so in KISS WORLD. We dedicate this episode to Krystofer Batsell, we will see you at the "End of The Road" Brother. Thank you for your joy. (Krystofer Batsell was killed in a car accident on 11/10/18. Krystofer was well known in the music world and enjoyed living out his passion of interviewing bands.
To donate to his Memorial.
https://www.gofundme.com/krystofer-batsell-help?fbclid=IwAR0yA_oOPFSeyXJYWC_GOb5dWFT8TTSQaUYTXradvHtyq7QtO_qu5fV-p9s
Now on Spotify, Stitcher, Tune In App!
Rate us on iTunes,
"like" us on Facebook,
and join the "PodKISSt Army!"
Join the conversation!
www.facebook.com/groups/Podkisst/
https://www.facebook.com/groups/thekissroom/
https://www.facebook.com/PodcastRockCity/?fref=ts
Get a PodKISSt/KISSROOM! shirt here
http://www.redbubble.com/people/designsbyken/collections/314385-kiss-art
For a limited time, you can get your own KISS ROOM and PodKISSt buttons, FREE!
All we ask is that you pay shipping and handling of $3 for one/$5 for two.
• Purchase via PayPal: zilchorders@gmail.com
(Leave your name and number of buttons and which kind you are ordering in the note/instructions field)
Check out our sponsors "MUTT MERCH"
Visit www.muttmerch.com for cool Rock & Dog shirts!