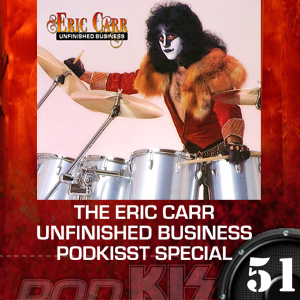 It's PodKISSt number 51! This month we take a look at Eric Carr's "Unfinished Business" CD. We interview Eric's sister Loretta Caravello, Beth Jordan of "Amplified Radio"/www.ericcarr.com, Ted Poley of "Danger Danger," John Humphey of Seether, and vocalist Marcia Juell.
The album is available now from www.ericcarr.com, Amazon.com, and music outlets everywhere.
http://www.ericcarr.com/rockheads/UnfinishedBusiness.html
Later this month, we'll be putting up our PodKISSt #52 Halloween special. Join us then as the PodKISSt gang takes a look back at KISStorical moments in the fall season. We also discuss scary stuff like MARRIAGE, and a little thing you may have heard of called the KISS Kruise! So enjoy this installment, all you fans of the Fox!