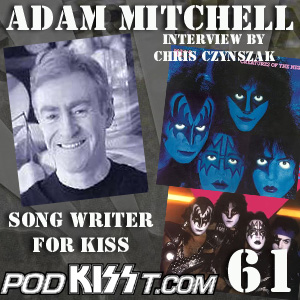 Adam Mitchell has written some very cool KISS Klassics, "Creatures of the Night", "Crazy Nights", "Danger", "Keep Me Comin'", "I'm a Legend Tonight", "Partners in Crime", "I'll Fight Hell to Hold You", "Little Caesar", He has also written for Chicago, Olivia Newton-John, Art Garfunkel, John Waite, Linda Ronstadt and many others.
Decibel Geek & PodKISSt's own Chris Czynszak interviewed this very talented man.
Check out the Decibel Geek's "KISSmas in July!" and soon the "V3" show, another in their series on Vinnie Vincent.
http://dbgeekshow.blogspot.com/
and subscribe to them on Itunes
also, check out Adam Mitchell's cool website.
http://artofsuccessfulsongwriting.com/
Big thanks to all who participated, and to you for listening!
So face front, KISS Army! It's PodKISSt… the KISS fanzine for your ears!
and don't forget to "like" us on Face Book!