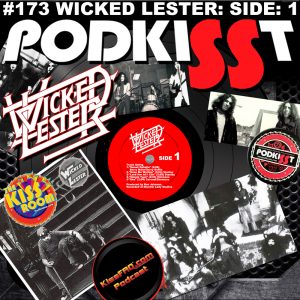 "WICKED LESTER" PT 2 Side 1 Ken Mills, Gary Shaller & Author Julian Gill KISSFAQ Podcast dig into the first side Wicked Lestery.Track listing
1-"Sweet Ophelia" (2:56) Barry Mann/Gerry Goffin
2-"Keep Me Waiting" (3:04) Stanley
3-"Love Her All I Can" (2:28) Stanley
4-"Simple Type" (2:33) Simmons
5-"She" (2:54) Coronel/Simmons
Produced by Ron Johnson.
Recorded at Electric Lady Studios. Let us know what you think PODKISST keeps rollin' on through the end of the road and beyond
If you enjoy the show, like KISS FAQ or The PodKISSt on Facebook or Twitter and rate us on iTunes.
and join the "PodKISSt Army!"
Join the conversation!
www.facebook.com/groups/Podkisst/
https://www.facebook.com/groups/thekissroom/
Get a PodKISSt/KISSROOM! shirt here
http://www.redbubble.com/people/designsbyken/collections/314385-kiss-art
For a limited time, you can get your own KISS ROOM and PodKISSt buttons, FREE!
All we ask is that you pay shipping and handling of $3 for one/$5 for two.
• Purchase via PayPal: zilchorders@gmail.com
(Leave your name and number of buttons and which kind you are ordering in the note/instructions field)
Check out our sponsors "MUTT MERCH"
Visit www.muttmerch.com for cool Rock & Dog shirts!