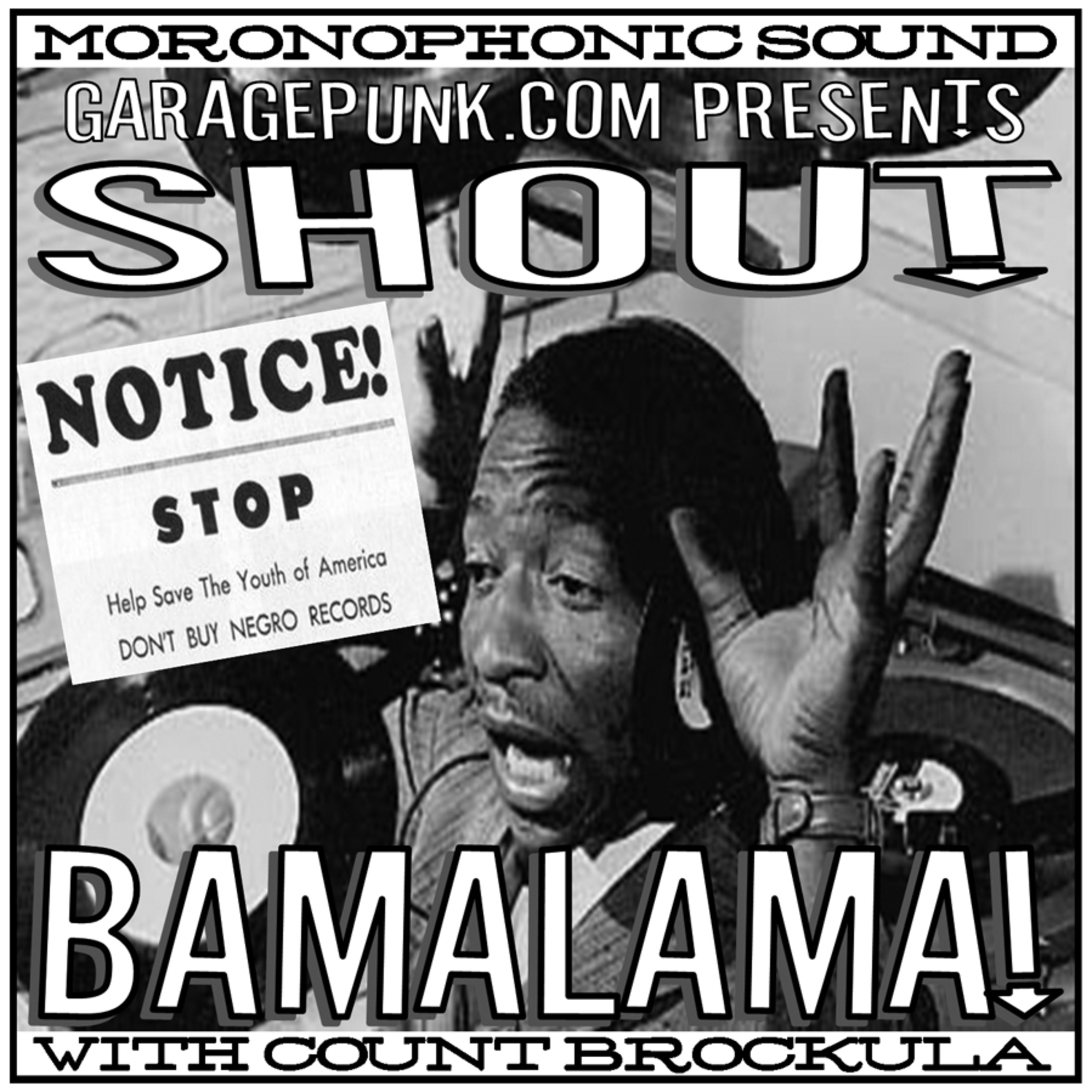 BACK BY POPULAR DEMAND!!
IT'S THE RETURN OF SHOUT BAMALAMA!!

THAT'S RIGHT BABIES, YOU HOOTED AND HOLLERED FOR MORE OF THAT HONKIN' NOISE SO HERE 'TIS!!

WE GOT THE HIT MAKERS, THE RECORD BREAKERS, AND THE MONEYMAKERS THAT ARE GONNA PUT MORE GLIDE IN YOUR STRIDE, MORE DIPS IN YOUR HIPS, AND MORE CUT IN YOUR STRUT. THEY'LL MAKE YOUR BACK CRACK, YOUR LIVER QUIVER AND YOUR KNEES FREEZE.

SO LET'S GET GRITTY, GREASY, LOW DOWN AND SLEAZY WITH THE BAR-KAYS, MACK RICE, IKE AND TINA, DON COVAY, LITTLE MILTON, AND BUDDY GUY!!

GET YOURSELF TOGETHER BABIES CAUSE IT'S GIT DOWN TIME!

SO TUNE IN, LIQUOR UP AND GET REAL, REAL GONE!!
INTRO - THE BAR-KAYS - BAR KAYS BOOGALOO
IKE TURNER AND HIS KINGS OF RHYTHM- TRACKDOWN TWIST
THE UPSETTERS - UPSETTER
TRAVIS WAMMACK - NIGHT TRAIN
MATTHEW CHILDS - FUNKY ONIONS
LITTLE SONNY - WADE IN THE WATER
EDDIE KIRK - THE HAWG
TALK BREAK - SCATMAN PATIN - RED BEANS AND RICE
BUDDY GUY - CRAZY LOVE
LITTLE RICHARD - MONEY
IKE & TINA TURNER - THIS MAN'S CRAZY
LONG TALL MARVIN - HAVE MERCY MISS PERCY
DON COVAY - BIP BOP BIP
MARIE KNIGHT - I THOUGHT I TOLD YOU NOT TO TELL THEM
LITTLE VICTOR & HIS ORCHESTRA - PAPA LOU AND GRAN
JOYCE HARRIS - NO WAY OUT
DON AND DEWEY - A LITTLE LOVE
TALK BREAK - FREDDIE KING - TEXAS OIL
ESKEW REEDER - YOU BETTER BELIEVE ME
MACK RICE - BABY I'M COMING HOME
LON ROGERS - MY GIRL'S A SOUL GIRL
EDDIE SPENCER - YOU'RE SO GOOD TO ME BABY
B.B. BROWN - LOW DOWN DIRTY TRAMP
LITTLE MILTON - GRITS AIN'T GROCERIES (BY REQUEST)
OTIS CLAY - BABY JANE
DANNY WHITE - NATURAL SOUL BROTHER
RODGE MARTIN - LOVIN' MACHINE
OUTRO - DAVID R. BATISTE, JR. - FUNKY SOUL