If there's something I've long associated with the summer it's hanging around in my terrace with the dogs, by the lake shore or the beach with an amazing book. I blame my awesome English Literature teacher Lisette for this, since summer reading was mandatory at my school. At the end of the school year, she would give us a list of classic must-read books that ranged from classic to contemporary fiction, and we had to pick a minimum of two or three books to read over the summer, handing of course a less intimidating version of a book report on it when we came back. The book report part I hated, but it was the great push I needed to create an absolute love of reading books and especially of summer reading! This tradition is still alive for me to this day, as soon as I feel the weather turning, I get into full research mode and start getting my new books in a row.
This week I thought I'd share my love of books with you, and give you a little insight into what some of my favorites have been, on the topics of fiction, non-fiction, veganism, cooking, food, life, self-improvement, and more. It's also a perfect moment to give you a little surprise! Some of you might know that we have a super cool library of resources at Brownble where you can find our go-to books, films, podcasts, courses, online videos, and other inspiration and resources to help you go vegan. Well... we've given it the most awesome makeover and gave it a delicious update! It's now so much easier and more fun to browse, we've made it colourful, added handy menus to help you find what you're looking for and so much more. You'll of course find it, as a pretty big extension to this list, by clicking the button at the end of this post.
In the podcast version of today's post, I also answer a question from Sam, regarding digestive health and experiencing bloating and stomach issues when going vegan, she asks about my history suffering from chronic gastritis, how I overcame it and much more. For the links mentioned in this portion of the show, you can visit:
- Taylor Wolfram RD of Whole Green Wellness.
- Emily Fonnesbeck RD and her wonderful articles on digestive health, the other side of elimination diets and more.
- Christy Harrison's interview with Emily where they discuss orthorexia and elimination diets.
Now that we've gotten all those announcements and links out of the way, today we're having a total summer book party, and we're getting it started with some personal book loving stories, self imposed reading ground rules, and the importance of knowing yourself as a reader, awesome book recommendations and more!
"Mom, you want me to do what now?"
Although I loved books as a kid, and my teacher really gave me one of my favorite book traditions with her summer reading lists, it was a little bit later when my mom taught me the true pleasure and secret benefit to reading.
At one time during my teenage years in which we were having a particularly hard time and my anxiety was at an all-time high, my mom told me that the cure for it was to begin a new book. I replied, almost in tears, "what do you mean read a book?", and she said: "here... this is a good one, get comfy, start reading it and tell me how you feel tomorrow".
That book was The Andromeda Strain by Michael Crichton, one of my family's favorites because they were all kind of obsessed with the whole science-fiction, post apocalyptic genre back then. Although I certainly gobbled up the book in just a few days, it wasn't the book itself that had been so magical in lowering my anxiety, it was one of the very first lessons on mindfulness I ever got. My mom was trying to teach me, without calling it by that name, that I needed something to take me out of the anxious non-stop loop of thinking anxious thoughts, and into the present moment. Since I had rejected all of her very wise suggestions of beginning a meditation practice (joke was on me right?!), this was her next course of action, and of course it worked. The book yanked me out of a painful situation that I had no control over, and put me in the present, turning one page and then another.
There's something so special about getting lost in a book, in a story, and if you're a fan of writing and the written word, seeing the craft that goes into a good one is priceless. It's the equivalent to dancing to your favorite record, or going to your favorite musical multiple times. Writing is, together with music, my favorite form of art.
My Non-fiction/Fiction Tug of War
For many years, especially in the first few years I was vegan, I said goodbye to great novels and classic and contemporary literature because I was devouring any and every book on food, eating, cooking, nutrition and veganism I could get my hands on. I had not realized at the time that this was also a sign that something wasn't right with my relationship with food. I couldn't let the topic go! After I had my little breakthrough on the fact that I needed to improve my relationship with food and quit the dieting cycle, then I became obsessed with memoirs of women who talked about going through similar things and overcoming them. Something in me was telling me that reading fiction was a bit of a waste of time if there were so many real-life stories and helpful self-development books out there, and so little time to read them all. Boy was I wrong!
Although there are so many great non-fiction books out there, and these can be a great part of your journey into being vegan and improving your relationship with food, by reading these and these alone, I was completely missing out on the wonder that is reading the art and story creation of a stranger, and finding yourself and your truth in so many of the stories and the characters.
There comes a point in which we've learned all the basics when it comes to eating and improving ourselves or making a big change such as going vegan, and we need to come back to the other things that matter to us. Our other interests, passions, guilty pleasures and fun reads.
In a way, whether a story has been created for the page, or it talks about things that actually happened, we read because we want to escape a little bit, but also because we want to find ourselves in the stories of others. We're reading and realizing that we're not alone in thinking the way we do, in liking certain things, in having beliefs we think we'll never share with anyone and no one shares with us, and then suddenly Pippi or Mr. Darcy or Jo March are right there, on the page, saying exactly what we've been feeling.
Moral of the story? Read anything that is calling out to you, but don't leave literature aside thinking it's "just a story". In my opinion, especially recently, I've found that I've gotten the biggest life lessons from characters in literature, because of course, any story that comes from a writer, whether taken from their own life in the form of a memoir, or one that is created for a character, they all come from the wonderful lessons that life has to give.
Self-imposed Ground Rules and Getting to Know Myself as a Reader
Through the years I've had to learn a few things about myself when it comes to choosing books and reading them. I've had to make up my own rules as has been the case for so many things in my life. The minute I understood who I was as a reader was the moment I started reading round the clock, which always makes me happy as it's one of my favorite ways to relax and spend down time at home.
First, although I do have many e-books and Carlos keeps pestering me about the fact that they're more eco-friendly, e-books are not my jam. I end up with way too many samples and old books I never finished and will never see again, and it just doesn't work for me. I'm a paper book lover all the way. It's the only way I'll finish a book, and it focuses me into reading one at a time which is, as I've discovered recently, the only way I can truly enjoy a book (and I used to read 4 or 5 books at a time). I love seeing that I'm almost at the middle, or near the end so I should just keep going, I love getting my books sandy at the beach and taking a book in my bag wherever I go. I read three times as much when my books are on paper, but what's even more special, is they are the central focus of the decor of our home, which is the second prize at the end of the book (the first of course being the glorious feeling of finishing a story you loved).
I have little color coded stacks in different nooks around the house. My books are scattered everywhere around the apartment, not only in my bookshelf, and still I can tell you where each book is, because I have a stack of books with gold spines under our little clock on a table, our pink and red stack near the pine tree with the Christmas lights, the deep blue and black on top of my cerulean dresser. Books are little prized possessions for me, little pieces of art, and I love to see them around the house and remember how I felt when I read them. You just can't do that with an e-book!
Another thing I learned the hard way, and Carlos would analyse this as what he calls "my problem with authority", is that I don't like it when people lend me books. It's too much pressure! It immediately makes me nervous about keeping the book for too long, or not liking it when it's my friend's favorite book, or, what truly lies behind this dislike of people lending me books, it might not be the one I'm in the mood for. Being in the mood, is essential. I can borrow from a library, but never from a friend. I'm weird, I know! I need to be able to go on the hunt for them, find them, choose them, and bring them home, with no expectation or deadline attached whenever possible (library deadlines are ok, but not people deadlines no matter how much they tell me they don't need it back).
Last little rule, less than exciting chapters in an otherwise amazing book are ok and are to be read through, but a book that feels like a chore and that I'm not enjoying? Well, life's too short for that so I just let them go.
What should I read next?
My little system
Another thing I do is I have a perfect system for my list of books to read. Since I follow a few Instagram accounts and listen to a few podcasts on writing, books and literature, I always have new titles I don't want to forget to check out, so I look for them on my phone, snap a picture, and keep these in a folder in my photo app called "Books" (did you know you could make folders there to organize stuff? This has been life changing for me!). When I finish a book, all I have to do is go into that folder and see what jumps out at me since I know only the titles I've found really good and interesting make it in there.
Great recommendations
Need more ideas? Get inspiration from some great accounts and podcasts on reading! My favorites are:
---
---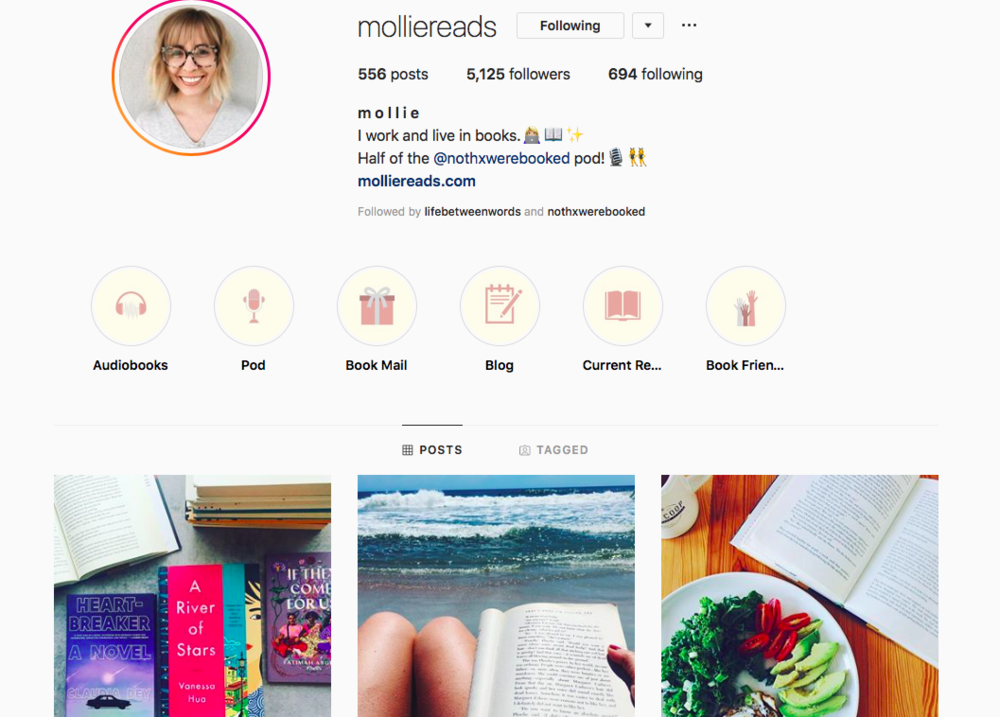 ---
A little note on the non-fiction books I'm going to recommend
Especially when it comes to books on food habits and veganism, it's so important to remember, that not everything we read in one book should be taken as gospel.
As you probably already know if you've been listening to our podcast or reading our blog for a while, there are so many authors and advocates that write well-meaning and wonderful books without noticing or taking into account their own biases or issues with food. Many great vegan books are wonderful when it comes to explaining the why behind making this ethical choice, but they present it as a magical solution for weight loss for example, or put weight loss in such a positive light that it doesn't leave any space for body diversity or body acceptance.
Some vegan books are wonderful at explaining some of the practical aspects of being vegan but also continue perpetuating some of the food fears and myths that are out there, that have little to do with actual health, nothing to do with veganism, and a lot to do with this clean eating culture we've walked into in recent years.
Some books are great at explaining nutrient requirements, but exaggerate the health claims and make promises that are not based on actual science.
On the other side of the spectrum, some books that talk about health at every size, approaching eating from a perspective of self care and enjoyment rather than self punishment or self control, sometimes don't even mention the fact that for some people not eating animals is an important ethical consideration. So veganism is sometimes not mentioned or mentioned in a negative light because of the orthorexia that has sadly become more prevalent in the vegan arena recently.
You get the idea.
Although I've done my best to choose books that try to give you the most unbiased and least triggering look at food and our eating habits, no book is perfect in its messaging, which is why I always tell you to read many books, read different perspectives, take the good, and leave what doesn't sound right, do additional research when needed, and remember that, as Steve Carrell tells Juliette Binoche in the wonderful movie Dan in Real Life:
"You rarely get it all in just one book"
Are you ready for some recommendations? I've set myself a limit of two or three per category which was incredibly hard, but that way I could really choose some of my favorites. Remember you've got plenty more in our library which you can access here or at the end of this post:
Favorite Books on Going Vegan
The Kind Diet by Alicia Silverstone
Food Revolution by John Robbins
Favorite Books on Vegan Nutrition
Vegan for Her by Virgina Messina and JL Fields
Vegan for Life by Virgina Messina and Jack Norris
Favorite Vegan Cookbooks
Isa Does It by Isa Chandra Moskowitz
Any of the Deliciously Ella Cookbooks by Ella Woodward
Anything by the Spork Sisters!
Favorite Books on Improving your Relationship with Food
Intuitive Eating by Evelyn Tribole and Elysse Resch
Health at Every Size by Linda Bacon
Favorite Eating and Food Memoirs
Big Girl: How I Gave Up Dieting and Got a Life by Kelsey Miller
Unbearable Lightness by Portia de Rossi (contains some explicit details on eating disorders)
Julie and Julia by Julie Powell
Favorite Self-Development Books
The Artist's Way by Julia Cameron
Shadows Before Dawn: Finding the Light of Self Love Through your Darkest Times by Teal Swan (only if you have a very open mind on topics like spirituality, energy work, alternative healing, etc., since this one's not a traditional self improvement book)
Emotional Healing at Warp Speed: The Power of EMDR by David Grand
Favorite Literary Classics
Great Expectations by Charles Dickens
Favorite Tearjerker Novels with Love and Tragedy Mixed In
The Time Traveller's Wife by Audrey Niffenegger
The Life you Longed For by Maribeth Fischer
Favorite Page Turners
Any of Dan Brown's early work (especially Deception Point)
Favorite Guilty Pleasures
The Twilight Saga by Stephenie Meyer, please don't judge, I am a kid/teenager-in-love at heart and I just could not put these down
Favorite Science Fiction Book
The Andromeda Strain by Michael Crichton
Favorite Memoir
Favorite Play
What I've read this Summer So Far and my Current Obsession
Slow Motion by Dani Shapiro (memoir)
The Year of Magical Thinking by Joan Didion (memoir)
The Great Alone by Kristin Hannah (Currently reading it and thinking of this one day and night, I have the feeling of both needing to know what happens next but also not wanting to finish it so I can keep reading it forever!)
Some Books that are on my To-Read List
Little Fires Everywhere by Celeste Ng
The Power of Now by Eckhart Tolle (non-fiction)
The Situation and the Story by Vivian Gornick (non-fiction)
Mrs. Dalloway by Virginia Wolf
The Glass Castle by Jeannette Walls (memoir)
Where the Crawdads Sing by Delia Owens
This is How it Always Is by Laurie Frankel
Anne of Green Gables by LM Montgomery
The Nightingale by Kristin Hannah
... among a gazzilion others already on my book folder on my phone.
This is just a very simplified list, and of course some thoughts in case you've been thinking of adding more reading into your life and can't seem to stick to it. Once you've found your sea legs when it comes to veganism or to improving your relationship with food, it can be so much fun and so important for your emotional and mental well being to read something that is just meant to entertain you, to inspire you, to take you to new worlds and times, to take you on a journey through the invisible lines of the stories that connect us all. That is the joy and brilliance of a really good book.
Click here to check out so many more titles and films, podcasts etc in our resource library!