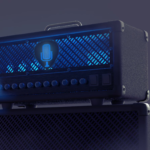 In order to change from the usual format of guitar review, here's a new idea: you will find below the audio recording of a guitar reviewed on The Guitar Channel, the goal is to guess which guitar or at least which kind of guitar it is!
Review setup
Path: guitar > jack > Kelt V-Twin amp > Shure SM-58 > Tascam DR-70D
No equalization applied or reverv or anythyng: just the dry signal coming from the SM-58
The settings on the amp were the sam throughout the review
Any idea about the guitar?
The post Guitar Review – Try to discover the mystery guitar! appeared first on The Guitar Channel.