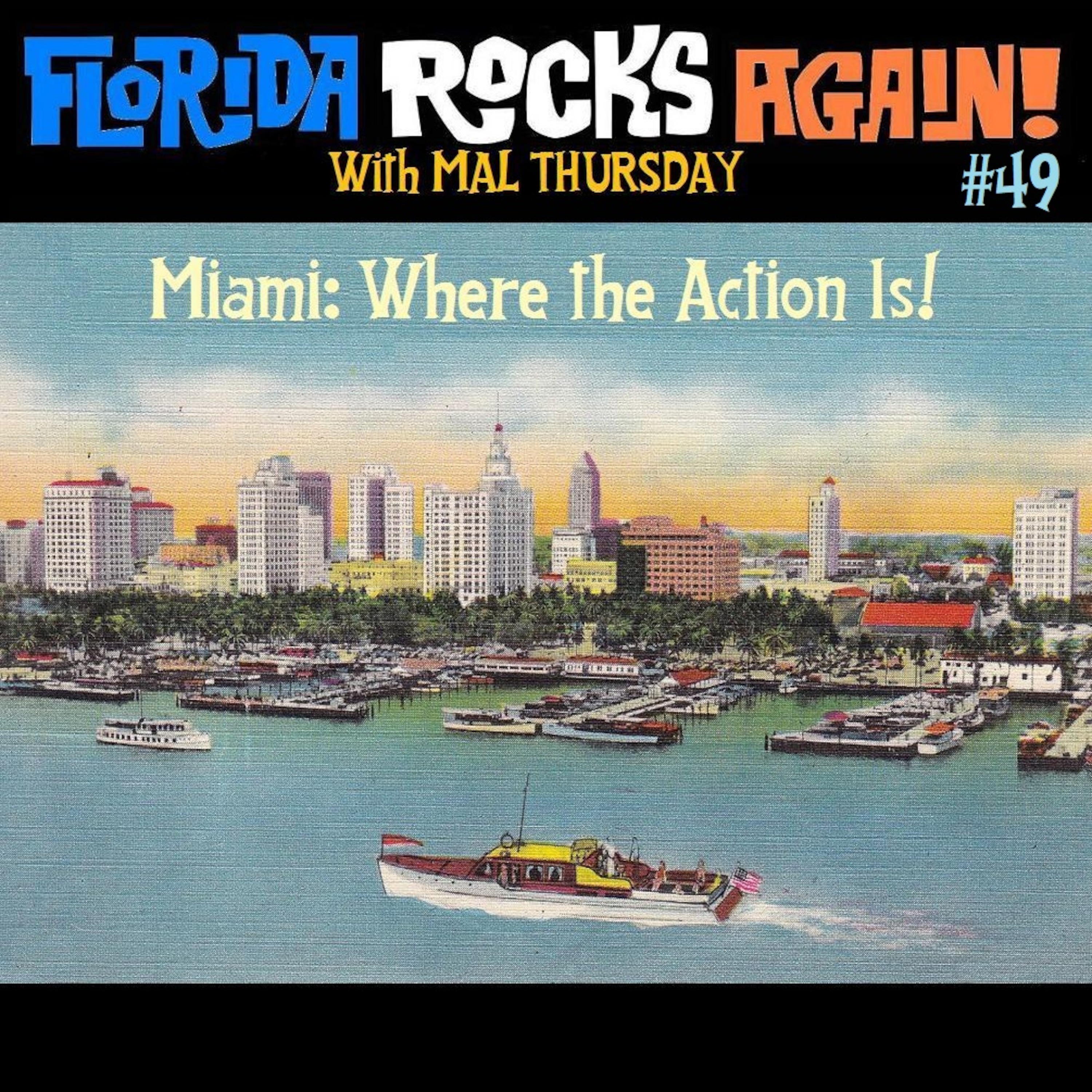 Mal Thursday is joined by Miami radio legend Rick Shaw and Florida Rocks Again! co-producer Jeff Lemlich to bring you two hours of some of the greatest records to emerge from South Florida in the 1960s. Originally broadcast in March of 2007. Presented in Living Monophonic and Ultrasonic Stereophonic Sound.
Playlist:
PROCTOR AMUSEMENT COMPANY: Heard You Went Away
WAYNE COCHRAN: Get Ready
SAM & DAVE: You Don't Know Like I Know/You Don't Know What You Mean To Me
THE SHAGGS: You Got Me Hummin'
THE LAST WORDS: Can't Stop Loving You
STEVE ALAIMO: Ain't Nothing You Can Do
THE BIRDWATCHERS: I'm Gonna Love You Anyway/Girl, I Got News for You
STEVE ALAIMO: Happy
THE AMERICAN BEETLES: School Days
THE LEGENDS: It's Alright
THE CLEFS OF LAVENDER HILL: Stop! Get a Ticket
THE ECHOES OF CARNABY STREET: No Place or Time
THE SQUIRES V: Bucket of Tears
THE INVADERS: She's a Tiger
EVIL: Whatcha Gonna Do About It
WAYNE COCHRAN: Going Back to Miami/The Coo
THE CHAMPIONS: Big Bad Beulah
KING COLEMAN: Mashed Potatoes
CLARENCE REID: Polk Salad Annie
DELLA HUMPHREY: Don't Let the Good Girls Go Bad
BETTY WRIGHT: I'm Thankful
THE MONTELLS: Daddy Rolling Stone/You Can't Make Me/Gloria
GEEKUS: Psychotic Reaction
Dr. T & THE UNDERTAKERS: Blue Blue Feeling/Things Have Changed/Undertakers Theme
THE BIRDWATCHERS: I Have No Worried Mind/Can I Do It
STEVE ALAIMO: You Don't Love Me (I Don't Care)/Everybody Knows/Every Day I Have to Cry

THE CLEFS OF LAVENDER HILL: One More Time
Please donate to the show via PayPal at http://malthursday.com, or via Patreon at https://www.patreon.com/MalThursday.
Tune into The Mal Thursday Show every Tuesday at 8 pm UK, and late nights Thursday, Saturday, and Sunday on Trash Can Radio, London http://trashcanradio.com/trash-can-radio-live-stream; Thursdays 10 pm Eastern on Surf 97.3 FM, streaming at http://flaglerbeachradio.com.; Fridays 7 pm Europe, 6 pm UK, with rebroadcasts Saturday and Sunday on Radio LUX http://radiolux.es.