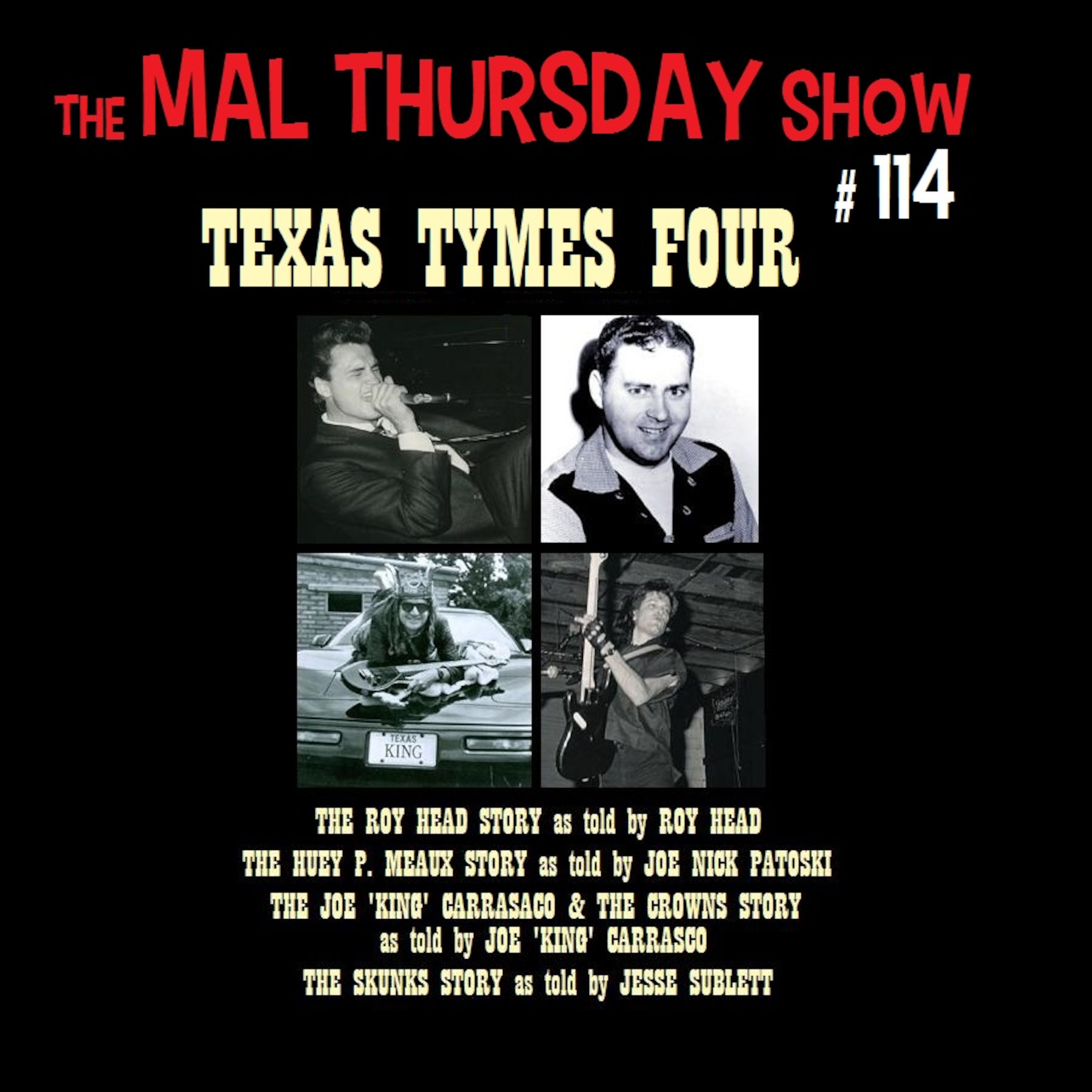 Take a wild trip in Mal Thursday's Texas Tyme Machine with four tales from Mal's Lone Star Rock n' Roll Hall of Fame: Roy Head telling "The Roy Head Story," Joe Nick Patoski relating "The Huey P. Meaux Story," Joe "King" Carrasco telling "The Joe 'King' Carrasco and the Crowns Story," and Jesse Sublett narrating "The Skunks Story." Originally aired 23 April 2015. Presented in Ultrasonic Stereophonic and Living Monophonic Sound.
Playlist:
ROY HEAD:One More Time
ROY HEAD & THE TRAITS:
Just a Little Bit/One More Time/Treat Her Right/The Apple of My Eye
ROY HEAD & THE GREAT BELIEVERS: Easy Lovin' Girl
ROY HEAD: One Night
SIR DOUGLAS QUINTET: She's About a Mover
JIVIN' GENE & THE JOKERS: Breaking Up is Hard to Do
JOE BARRY: I'm a Fool to Care
DALE & GRACE: I'm Leaving It Up to You
SUNNY & THE SUNLINERS: Talk to Me
THE TRAITS: Too Good to Be True
JOE "KING" CARRASCO:
Drug Through the Mud (with THE CROWNS)
Tell Me (with EL MOLINO)
Houston El Mover/Buena/Don't Bug Me, Baby/Party Weekend (with THE CROWNS)
THE SKUNKS: Memphis/Earthquake Shake/Cheap Girl/Jackie O/Gimme Some/Television Lover
une into The Mal Thursday Show every Tuesday at 8 pm UK, and late nights Thursday, Saturday, and Sunday on Golden Radio/Trash Can Radio, London http://trashcanradio.com/trash-can-radio-live-stream; Thursdays 10 pm Eastern on Surf 97.3 FM, streaming at http://flaglerbeachradio.com.; Fridays 7 pm Europe, 6 pm UK, with rebroadcasts Saturday and Sunday on Radio LUX http://radiolux.es.