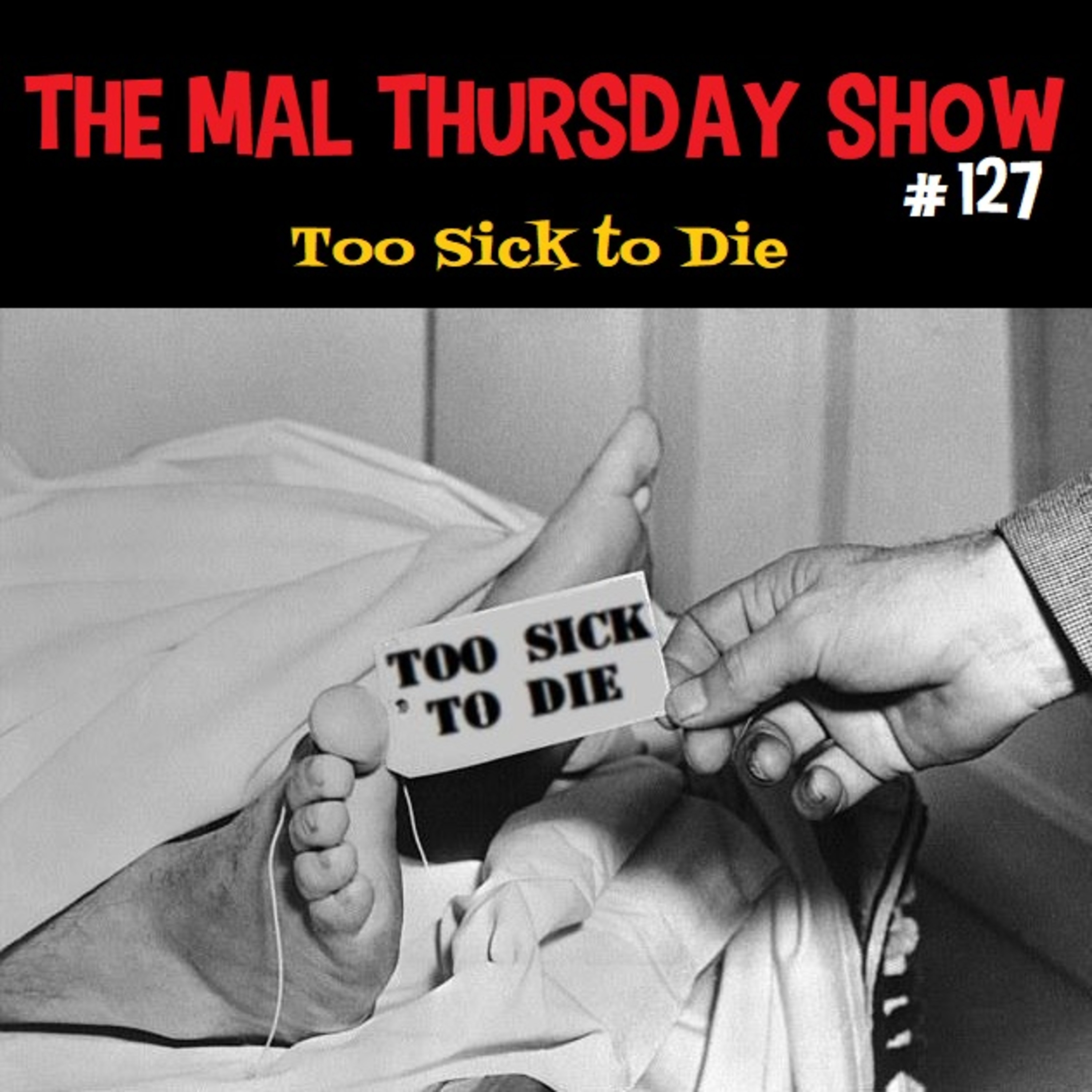 Mal Thursday dips into the vaults for a meditation on illness, life, and death. Originally broadcast, in slightly different form, on 11 August 2015. Presented in Living Monophonic and Ultrasonic Stereophonic Sound.
Playlist:
MUDHONEY: Touch Me, I'm Sick
THE SPATS: The Bottom of It All
THE OPTIC NERVE: Penelope Tuesday
THE LEFT BANKE: I've Got Something on My Mind
THE FLESHTONES: Too Much on My Mind
THE GREENHORNES: Satisfy My Mind
SAUCERIANS: Brain Case
THE CRAMPS: New Kind of Kick
THE TEXTILES: Primitive
THE BEGINNER'S MYND: I Found You Out
THE CYNICS: Summer's Gone
EPISODE SIX: Jack D'Or
SONS OF HERCULES: Misunderstood
THE UGLY BEATS: Let Me Through
KENNY AND THE KASUALS: Empty Heart
'68 COMEBACK: Willie and the Hand Jive
CHURCHWOOD: Rimbaud Diddley
JUNIOR BROWN: Better Call Saul
THE REALLY ROTTENS: Starting Line
HOWLIN' WOLF: Killing Floor
THE MORLOCKS: Killing Floor
GREG "STACKHOUSE" PREVOST: Death Rides with the Morning Sun
ALICE COOPER: Desperado
THE RAMONES: Too Tough to Die
QUINCY JONES: Killer Joe
RALPH STANLEY: O Death
SCOTT WALKER: My Death
JOSH WHITE: In My Time of Dying
BOB DYLAN: See That My Grave Is Kept Clean
THE GRATEFUL DEAD: Death Don't Have No Mercy
BLUE OYSTER CULT: Don't Fear the Reaper
WILLIE NELSON: Too Sick to Pray
Please donate to the show via Patreon at https://www.patreon.com/MalThursday, or via PayPal (https://www.paypal.com/donate/?token=DbIt_0So-22uCeGBf7TAzxYo7HuiOomZiUA-3PHVGsFsclaWjDWv7DHHKoWxZHclN9aF4W&country.x=US&locale.x=US).
Tune into The Mal Thursday Show every Tuesday at 8 pm UK, and late nights Thursday, Saturday, and Sunday on Trash Can Radio, London http://trashcanradio.com/trash-can-radio-live-stream; Thursdays 10 pm Eastern on Surf 97.3 FM, streaming at http://flaglerbeachradio.com.; Fridays 7 pm Europe, 6 pm UK, with rebroadcasts Saturday and Sunday on Radio LUX http://radiolux.es.