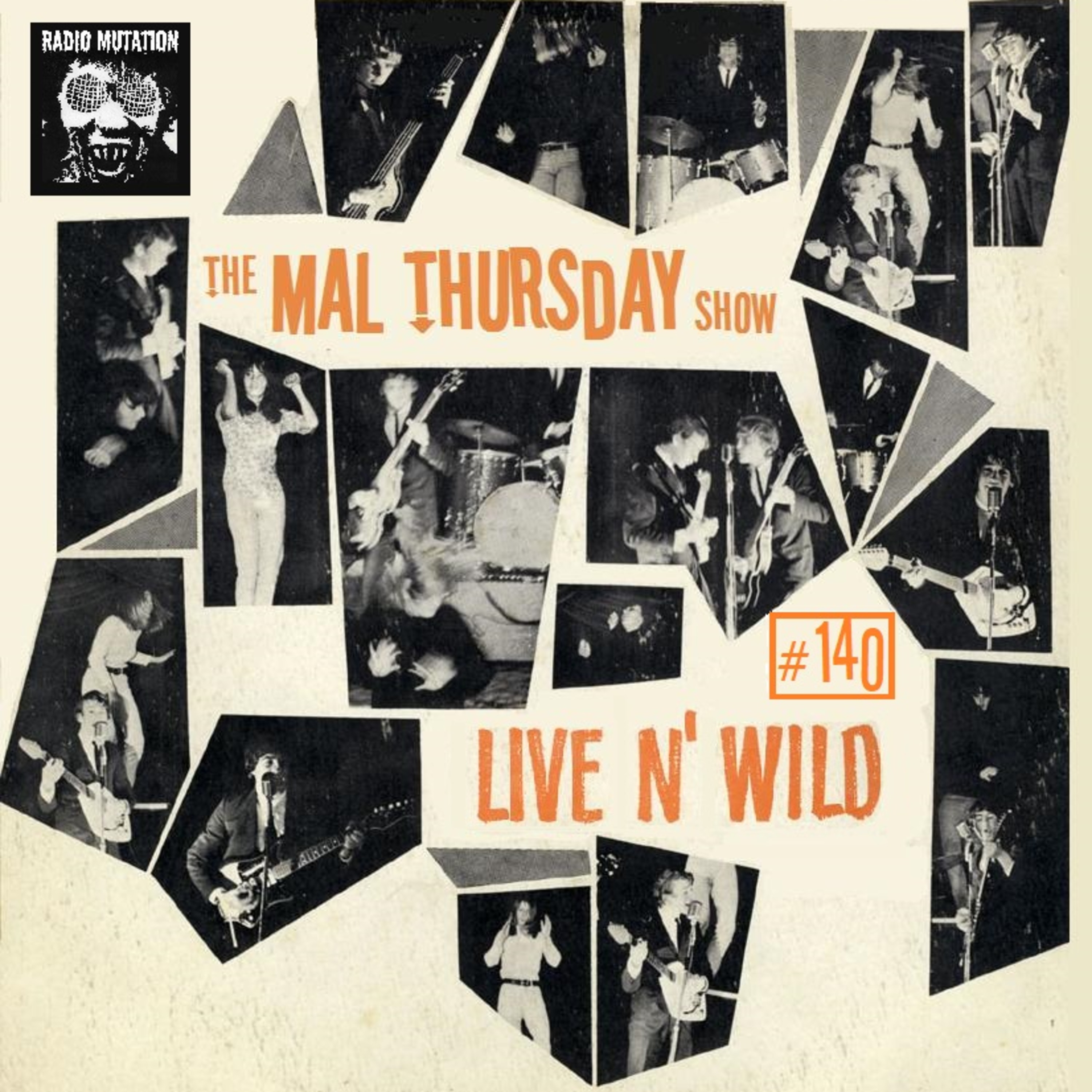 Live recordings of rock n' roll bands from the mid-'60s are often a mixed bag of out-of-tune guitars, screaming girls, and questionable mic placement. This episode of The Mal Thursday Show seeks to correct this with a series of transcendent '60s live recordings. Dig! This episode replaces #5. Presented in Ultrasonic Stereophonic and Living Monophonic Sound.
Playlist
13TH FLOOR ELEVATORS: You're Gonna Miss Me
THEE MIDNIGHTERS: Everybody Needs Somebody to Love
THE SHADOWS OF KNIGHT: Oh Yeah
THE ELECTRIC PRUNES: I Had Too Much to Dream Last Night
THE SEEDS: No Escape
THE GREEK FOUNTAINS: Howlin' for My Darlin'
THE STANDELLS: Mr. Nobody/Why Did You Hurt Me/Sometimes Good Guys Don't Wear White/Dirty Water
THE REMAINS: Hang On Sloopy/All Day and All of the Night/Why Do I Cry
LITTLE PHIL & THE NIGHT SHADOWS: 60 Second Swinger
THE SAVAGES: The World Ain't Round, It's Square
RAIK'S PROGRESS: I'm Gonna Change the World
THE SNAILS: Snails Love Theme
THE OUTSIDERS: Summertime Blues
THE WIG: Drive It Home
THE BOBBY FULLER FOUR: The 2000 Pound Bee
13TH FLOOR ELEVATORS: Everybody Needs Somebody to Love/You Don't Know/The Word/You Really Got Me
THE BYRDS: Hey Joe/My Back Pages/So You Want to Be a Rock n' Roll Star/Roll Over Beethoven
THE MONKEES: Last Train to Clarksville/I'm a Believer/Sweet Young Thing/I'm Not Your Stepping Stone
BUFFALO SPRINGFIELD: For What It's Worth/ Rock and Roll Woman/Bluebird
THE SPIRITS: Almost There
Please donate to the show via PayPal at http://malthursday.com, or via Patreon at https://www.patreon.com/MalThursday.
Tune into The Mal Thursday Show every Tuesday at 8 pm UK, and late nights Thursday, Saturday, and Sunday on Trash Can Radio, London http://trashcanradio.com/trash-can-radio-live-stream; Thursdays 10 pm Eastern on Surf 97.3 FM, streaming at http://flaglerbeachradio.com.; Fridays 7 pm Europe, 6 pm UK, with rebroadcasts Saturday and Sunday on Radio LUX http://radiolux.es.
The Mal Thursday Quintet: https://malthursdayquintet.bandcamp.com/