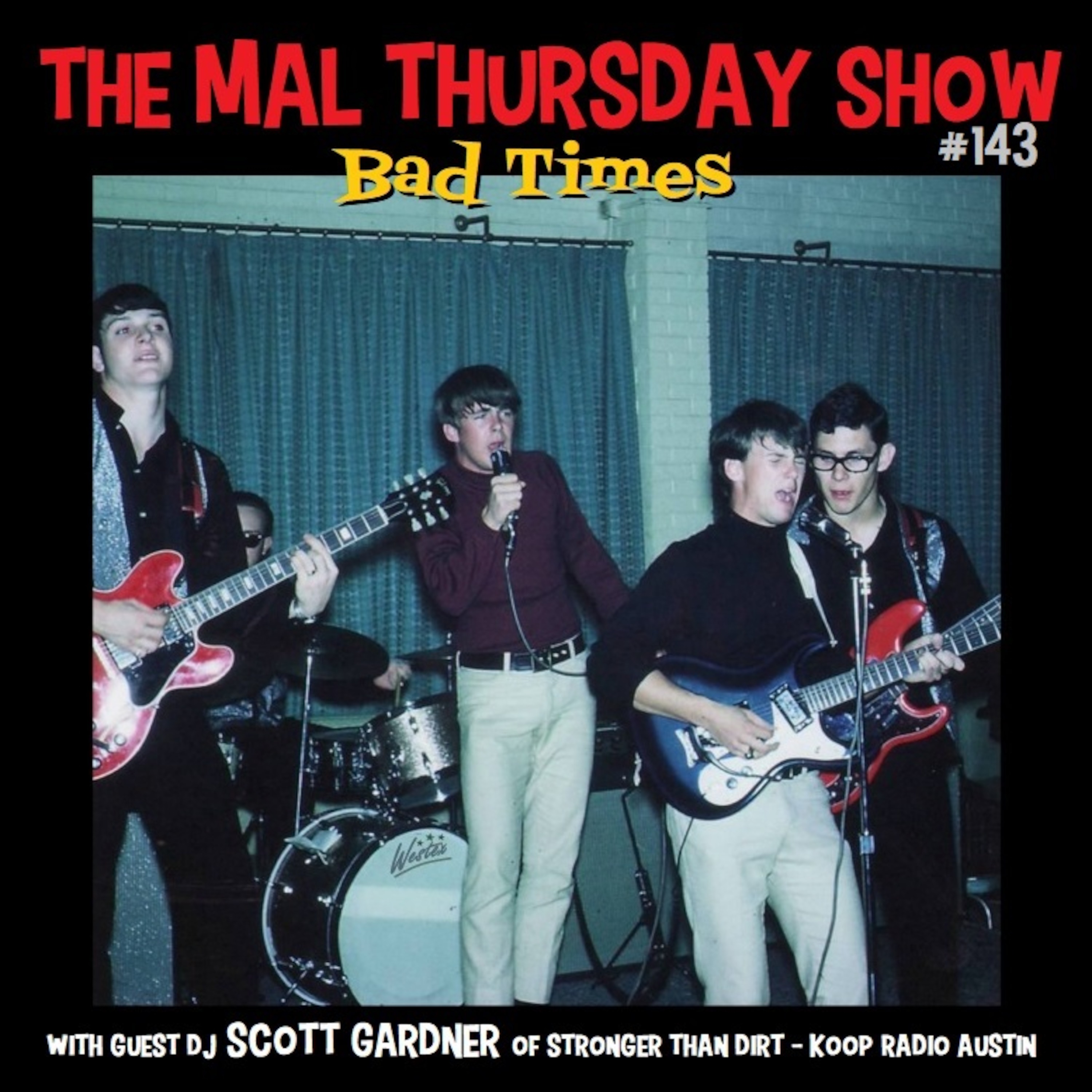 Mal Thursday is joined by Scott Gardner, host of the long-running Stronger Than Dirt radio program on 91.7 KOOP-FM in Austin (http://KOOP.org), for a show all about Bad Times. Mr. Thursday hands Mr. Gardner the keys to the Texas Tyme Machine, and Scott floors it. Originally broadcast 29 November 2018. Presented in Living Monophonic and Ultrasonic Stereophonic Sound.
Please donate to the show via PayPal at http://malthursday.com, or via Patreon at https://www.patreon.com/MalThursday
Playlist:
THE D-COYS: Bad Times
PAUL REVERE & THE RAIDERS: These are Bad Times (For Me and My Baby)
THE WHO: The Good's Gone
THE JAM: So Sad About Us
THE UNDERDOGS: Love's Gone Bad
THE AQUALADS: Runaway
THE ROLLING STONES: Good Times, Bad Times
THE YARDBIRDS: I Ain't Done Wrong
LYRES: What's Wrong with You

THE LOVEJOYS: Payin' (for the Wrong I've Done)
SAM & DAVE: Rich Kind of Poverty
BOOKER T & THE MGs: Born Under a Bad Sign
Mal Thursday's Texas Tyme Machine with Guest DJ Scott Gardner:
OEDIPUS & THE MOTHERS: (I Remember) How It Used to Be
THE BARDS: Alibis
ELECTRIC LOVE: This Seat Is Saved
THE BRENTWOODS: Yeah Yeah, No No
THE BAD SEEDS: Sick & Tired
THE SIX DEEP: Girl It's Over
BUDDY HOLLY: Peggy Sue Got Married
THE GENTLEMEN: It's a Cry'n Shame
THE IGUANA: Leaving You Baby
THE BAD ROADS: Too Bad
THE HARD TIMES: Goodbye
THE ROADRUNNERS: Goodbye
THE BLIND OWLS: Goodbye
THE GREENHORNES: Saying Goodbye
THE LOONS: A Last Goodbye
PLAN 9: I Can't Stand This Love, Goodbye
THE FLIGHT REACTION: I Don't Wanna Say Goodbye
GERRY BRIGHT & THE STOKERS: Heavy Trip
PALMYRA DELRAN & THE DOPPEL GANG: Come Spy with Me
THE EMBROOKS: Going But Not Gone
GROOVY UNCLE: Howard Eno
RUNHIDEFIGHT: He's a Jerk
THE INVISIBLE SURFERS: The Devil Herself
DEE RANGERS: No One to Love
THE ROUTES: Driving Round in Circles
THE MALARIANS: A Taste of Five
THE CLUE: Bad Times
Tune into The Mal Thursday Show every Tuesday at 8 pm UK, and late nights Thursday, Saturday, and Sunday on Trash Can Radio, London http://trashcanradio.com/trash-can-radio-live-stream; Thursdays 10 pm Eastern on Surf 97.3 FM, streaming at http://flaglerbeachradio.com.; Fridays 7 pm Europe, 6 pm UK, with rebroadcasts Saturday and Sunday on Radio LUX http://radiolux.es.
The Mal Thursday Quintet: https://malthursdayquintet.bandcamp.com/