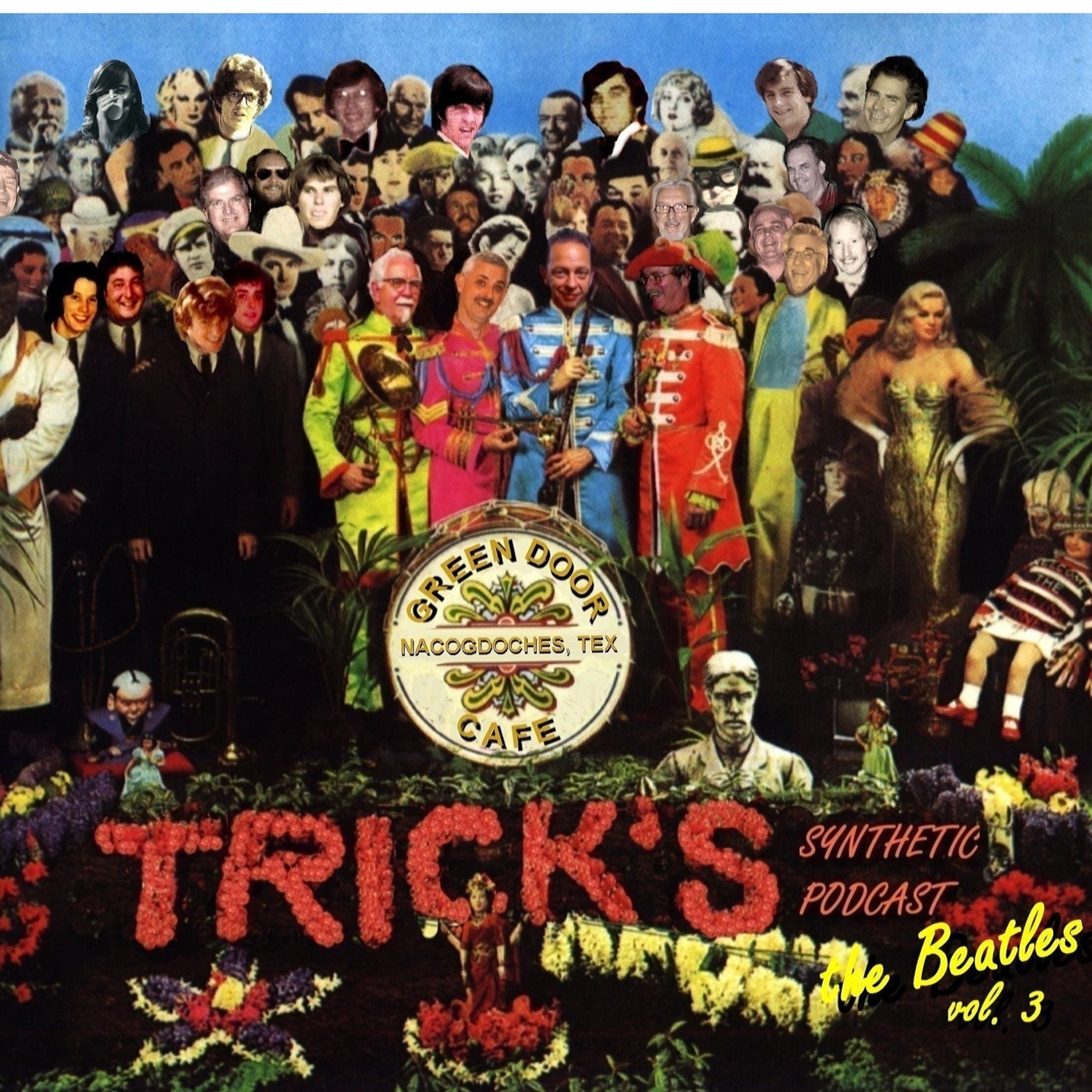 Part 3 of the Beatles cover extravaganza with the gang donning satin hot pink, shocking chartruse, and robins egg blue uniforms, for the manliest of tributes yet!
This time we feature tunes from the Sgt. Pepper, Magical Mystery Tour, Yellow Submarine, and the double white albums,
so come on along and grab some love beads and patchouli oil for this extra special(and extra long) Trick's Synthetic Podcast!
Sgt Peppers Lonely Hearts Club Band by Simple Kid,
With A Little Help From My Friends by Puerto Rico,
Lucy In The Sky With Diamonds by William Shatner,
Getting Better by Fionn Ragan,
Fixing A Hole by Big Daddy,
She's Leaving Home by Streeta,
Being For The Benefit Of Mr. Kite by Bireride,
With You Without You by Marianne Faithfull,
A Day In The Life Back 2 Back with The Beats and Big Daddy,
Sgt. Peppers Reprise by the Persausions,
Magical Mystery Tour by Cheap Trick(no relation,
Blue Jay Way by Lord Sitar,
I Am The Walrus by Beelzebubbas,
Hello Goodbye by Dwight Twilley,
Strawberry Fields Forever B2B with Sandy Farina and Los Fabulos, Penny Lane by The String Quartet,
All You Need Is Love by The House Jacks,
Back In The USSR by Los Durobeats,
Dear Prudence by Rudy Rotta Band,
Glass Onion by Big Linda,
Ob-La-Di, Ob-La-Da by Maria Muldaur,
While My Guitar Gentley Weeps by Joe Louis Walker,
Happiness Is A Warm Gun by Anders Osborne,
I'm So Tired by Chris Duarte,

I Will by John Holt,
Julia by A Girl Called Eddy,
Birthday by The Inmates,
Yer Blues by Jeff Healey,
Everybody's Got Something To Hide by Kristin Hersh,
Sexy Sadie by Paul Weller,
Helter Skelter by the Bobs,
Revolution by Granddaddy.