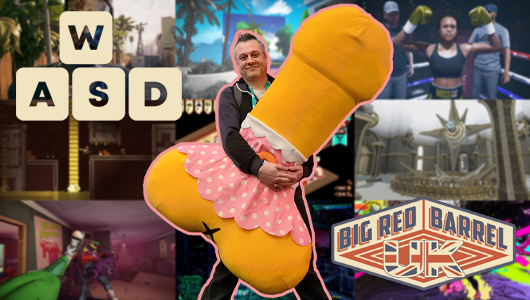 Coleman's had to leave the country for a couple of weeks leaving Dan and Tim with no editor, forced to take time off from the show. But have no fear, as we'd never purposely leave you in the lurch and have set up a couple of smaller shows to bridge the podcast-shaped gap in your heart.
It's a WASD special this week – which is actually really handy as we sent Tim there over the weekend, so expect to hear about the goings on when it comes to all good things gaming.
Time Stamps
00:00:00 Start
00:00:10 Intro
00:01:53 The Adventures of Tim at WASD 2023
00:05:33 Undisputed
00:09:00 System Shock
00:11:15 Dead Island 2
00:14:52 Scars Above
00:17:27 Street Fighter VI
00:20:13 C-Smash VRS
00:20:55 When Tim met Shuhei
00:22:39 Anger Foot
00:23:27 Gunbrella
00:25:18 Viewfinder
00:28:26 Ninja or Die
00:29:42 Cuisineer
00:31:45 Skera VR
00:33:08 David's top picks
00:36:38 Check out our merch at TeePublic.com/stores/BRB
00:36:49 Tabletop Tuesday at Loading Stoke Newington
00:37:07 Outro
Thanks for listening to another episode of BRB UK. Here's where you can download this episode's MP3 and subscribe via Apple Podcasts, RSS, Spotify, YouTube or anywhere else that podcasts are available.
Please find us on Discord, Twitter, Facebook and BigRedBarrel.com.
The post BRB UK 537: Tim's Big WASD Adventure appeared first on Big Red Barrel.