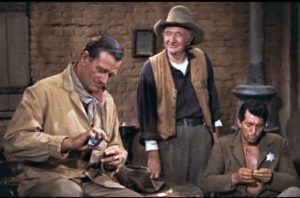 After watching new and/or weird versions of the Western, this week we're returning to what can only be described as a classic, Howard Hawks and John Wayne's most popular team-up, Rio Bravo. Featuring Dean Martin as a drunk, this beloved genre favorite has been remade both loosely and explicitly near half a dozen times, and has been referenced as a touchstone by filmmakers like Martin Scorsese and Quentin Tarantino. It's also not one of Dad's favorite John Wayne films! That disparity of opinion provides much conversation on whether this film is a plodding, overlong and uneventful slog, or one of the more interesting and exciting Westerns of the era, and one where I think our positions might end up being a bit surprising. Conversations include Dean Martin's substance abuse, John Wayne's extreme dislike of High Noon, the appeal of sultry, tough-talking gals, the short careers of teen heartthrobs, the ugliness of hats, and how Dad kinda looked like the film's villain, back in the day. Impersonations include Walter Brennan's wacky old man and Wayne, of course. Always Wayne. This episode contains more interesting backstory and information about Rio Bravo than we're typically want to do, which is a distinction I am pleased with and hope to emulate in the future!
At the end, we discuss the Christmas film Love, Actually, which Dad has clearly watched far too early in the year, and the new Marvel film Doctor Strange. We are also looking for suggestions for Christmas-themed Westerns, a pretty much non-existent subgenre, so if you've got any suggestions, please let us know at westernswithdad@gmail.com. And also, rate and review us on iTunes! It's been helping a lot! Next week will bring more John Wayne, with The Man Who Shot Liberty Valance.
Rio Bravo stars John Wayne, Dean Martin, Ricky Nelson, Angie Dickinson and Walter Brennan. It was directed by Howard Hawks.