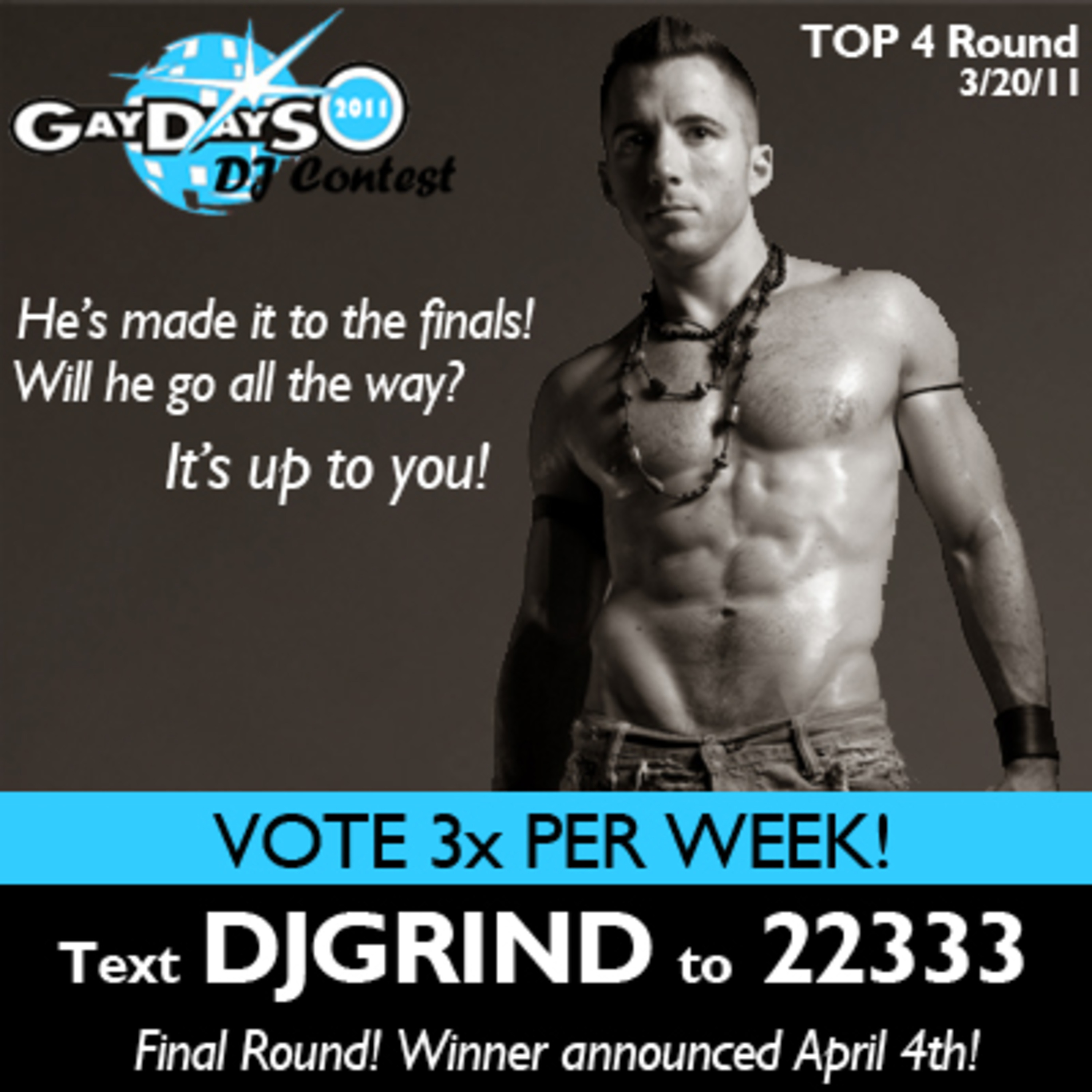 Over 200 DJs applied. Only 3 remain. Your votes and live streams have helped me reach the FINAL ROUND! Now, I'm just one step away from GayDays! Will I go all the way? It's up to you!
VOTE NOW -- it's fast & easy! Text "DJGRIND" to 22333. You can vote 3x every week, so be sure to vote -- even if you voted last week!
The winner of the 2011 GayDays DJ Contest will get his own weekly radio show and earn the chance to spin the closing pool party at GayDays 2011 in Orlando! Here's my set from the Top 4 round, which aired on GayInternetRadioLive.com on Sunday, 3/20/11 at 6:00pm ET / 3:00pm PT.
SET LIST:
Sweet Mix (Is Made Of These) -- Rihanna vs. Lady Gaga vs. Eurythmics vs. Madonna vs. Pink vs. Yazoo vs. One Republic
Barbramyte -- Duck Sauce vs. Taio Cruz
Forget You -- Cee-Lo Green
Bad Gal -- Savage Skulls & Douster feat. Robyn
I Wanna Go -- Britney Spears
The Weekend -- Tango & Cash
Baby Likes To Bang -- Zayra
Good Girl -- Alexis Jordan
Ego -- The Saturdays
The Reason -- The Reason4
Energy -- Keri Hilson
More -- Usher
What a Feeling -- Alex Gaudino feat. Kelly Rowland
Rhythm Is A Gangsta -- Snoop Dogg vs. Snap
Something -- Mario Deline feat. Inez
Eyes Wide Shut -- JLS feat. Tinie Tempah
I Love Bromance -- Tim Berg vs. September
I'm in Love (I Wanna Kickstart It) -- Alex Gaudino vs. Example
Beautiful U R -- Deborah Cox
My First Kiss -- 3OH!3 feat. Ke$ha
Give Me Everything -- Pitbull feat Afrojack, Nayer & Ne-Yo
Nothing On But the Radio -- Lady Gaga
Wow -- Kylie Minogue
Teenage Gay -- Katy Perry vs. OMD
Do You Remember -- Jay Sean ft Sean Paul & Lil Jon vs. Guns N Roses
SPECIAL THANKS to my good friend DJ Blaine Soileau for the intro to this week's set. Follow the amazing DJ Blaine on Facebook: http://tinyurl.com/DjBlaineSoileau. And, visit his site: http://www.djblaine.com/