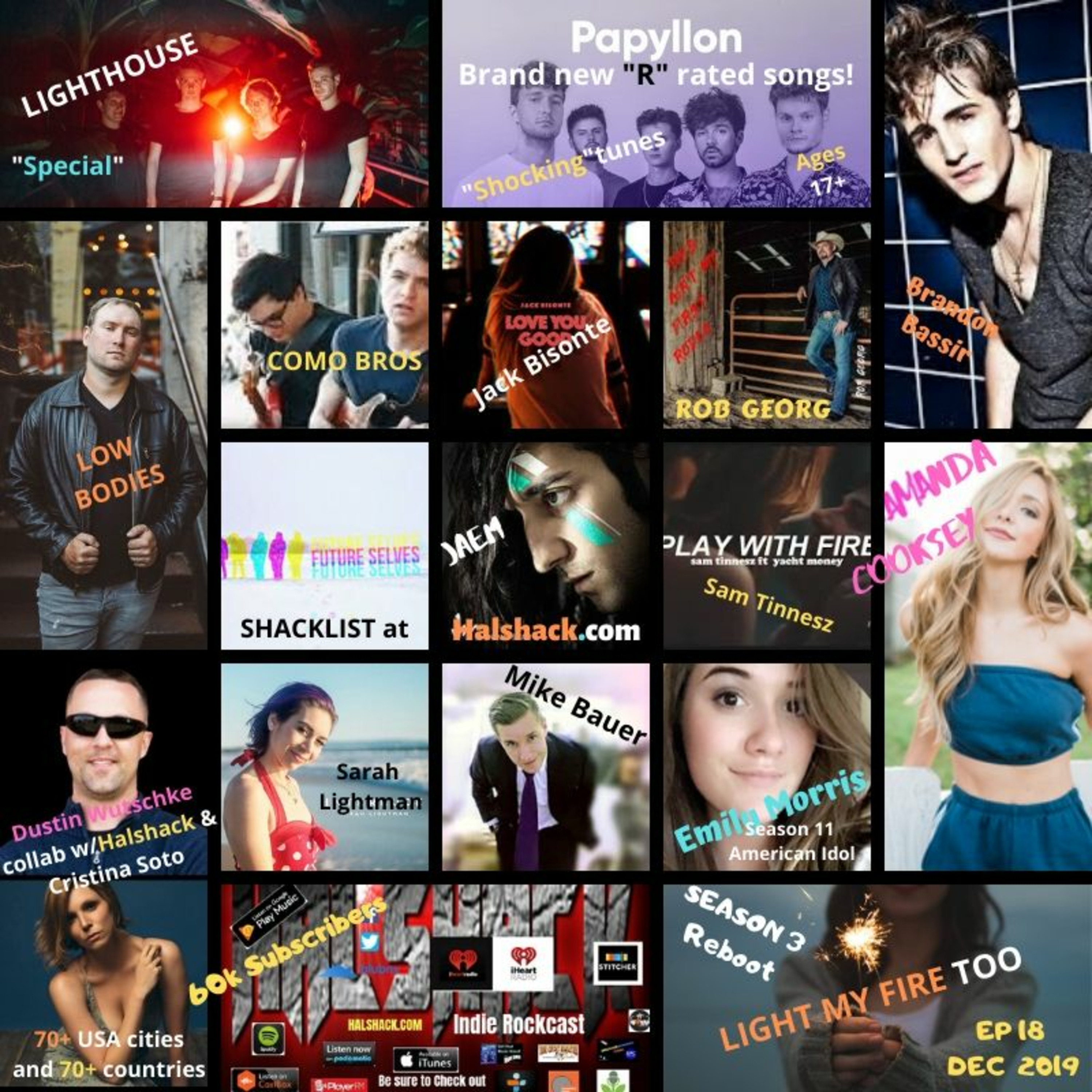 DISCLAIMER...PARENTAL DISCRETION ADVISED!! (please read below)
ALL NEW MUSIC AND BANDS ALERT!!
5 YEAR ANNIVERSARY!!
50th episode released in total!!
Ep 18 (Light My Fire TOO)...Dec 2019! Season 3 reboot!!
DISCLAIMER...PARENTAL DISCRETION ADVISED!! (end of the show)
I was a little "loose" with my language this show (just having fun!) and there's a new Euro band (PAPYLLON) with some adult content!
I had to at least warn you that the HALSHACK "grew up" this show, now its time to "blow up" and start work on the next level of my entertainment juggernaut!
ALL NEW BANDS AND MUSIC!!--read below
SPECIAL DEBUT RETURN to the scene in 6 YEARS...
EMILY MORRIS (American Idol Season 11)..."absolutely pristine angelic vocal"
Debuting new bands and artists LIGHTHOUSE, PAPYLLON, SARAH LIGHTMAN,BRANDON BASSIR, FUTURE SELVES, AMANDA COOKSEY, ROB GEORG, DUSTIN WUTSCHKE collab track (with Halshack and Christina Soto) and MIKE BAUER (ooooooh... very smooth track named "Wild")
New tracks from SAM TINNESZ and LOW BODIES and round it out with a couple returning powerhouse "hits" from Spanish rocker JACK BISONTE and talented producer JAEM.
LOOK FOLKS!! I'm just having a little fun here with my show and the subject matter. Anyone who knows me and has been long time fans of the show knows that my LUCK and TIMING has been that of LEGENDS and my LIFE and SHOW are truly CONNECTED and INTERTWINED in more ways that I can count or even begin to understand. My friends and family knows that I have been trying to DATE (since the CRASH of my life in February 2019) at every turn with no luck so I thought I'd see if anyone listening might want to give it a shot and get to know me a little bit. I'm being a little MUCH in the show I know...LOL. I felt good making this show and everyone knows I like to pick and joke around! I'm not conceited in anyway I was just having a lot of fun this show being Mr. Dashing and playing off the song titles and subject matter!
HALSHACK is a persona, its me, but its not really ME. I'm keyed up, talking like a radio presenter, stuff like that is for the show!
I've got the burning passion desire for ROMANCE, FUN, ADVENTURE, LOVE and MUSIC and PASSION for life and all things fun and humorous! Anything I can do to help better human kind and it starts with tiny gifts of good music to help soothe your soul. I'll move on to BIGGER and BETTER gifts to humanity as I gain stature. It's time ladies for me to start the journey for my future life. I'm looking for a lady who might have some interest in my life and would like to get to know my heart. I would LOVE to know yours! I'm easy to talk too and approach. I can talk about anything and am interested in EVERYTHING! But surefire way to connect is to talk about the show and bands and music and if you're a special lady singer, well we just may be two peas in a pod..lol
I've got a HUGE HEART to give and want mine spoken to or better yet SUNG TO!!...lol
As usual its ALL about TIMING with me and it just so happens to be that time in my life when I'm ready for the next phase and I'm beginning to understand what type of woman I need in my life and that would be a passionate woman thats in the business or can be in the business like a SINGER or a P.R. person. (I really kind of feel the singer vibe) and this show of course would happen to line up with that in my life and most of the song titles being about loving a woman or just meeting the right one at this time. I cant help the timing. Its no surprise I'm single, I've mentioned the terrible effects my life have endured over the last year in past episodes. But now I'm ready to move on. Its the ONLY time I've ever USED my show to talk to women and I will never again. If this works and I find the right woman to move forward then that prevents me from wasting my time with the wrong one and stagnating my life, there would be no need to play to the ladies hearts again because I'll be happy in LOVE (I hope) and ON MY WAY. PLUS its just the subject matter of the show, again all about timing. Wasn't my plan, just worked out that way!
"these are song titles from the show"..I like to play around with titles from the show and make paragraphs with them
I AM looking for MY "Little Queen on Fire" that could be the brightest "Shining Star" of my life! I'm hoping I can at least chat with a special woman to see where it might lead! Take a leap of faith with me and lets break the ice with a little heat and maybe there might be "Something in the Air" and we "Catch Fire" so we might hit that special frequency and we're talkin' all night long! Don't know unless we try ladies.
I'm easy to find (Facebook, Twitter, Halshack contact page at website) and I'm "Easygoing", that's just me..lol
Find the Halshack on all major music services and also of course the show website!!