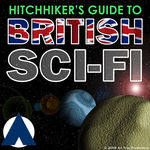 Hitchhiker's Guide to British Sci-Fi - Episode 8
Running Time: 1:25:50
We are back! We interview Brian Croucher, Travis of Blake's 7, and we discuss news of Torchwood: A New World, The Sarah Jane Adventures Series 4, The Deep, Ashes to Ashes, and more!
Hosted by Louis Trapani and Dave Cooper, with Ken Deep and James Naughton.
This podcast is brought to you by Doctor Who: Podshock, celebrating 5 years, it's the longest running Doctor Who podcast. Available in iTunes. Visit http://gallifreyanembassy.org or http://podshock.net for details.
This episode is also brought to you by Audible. Visit http://www.audiblepodcast.com/arttrap for your FREE audio-book download with free trial.