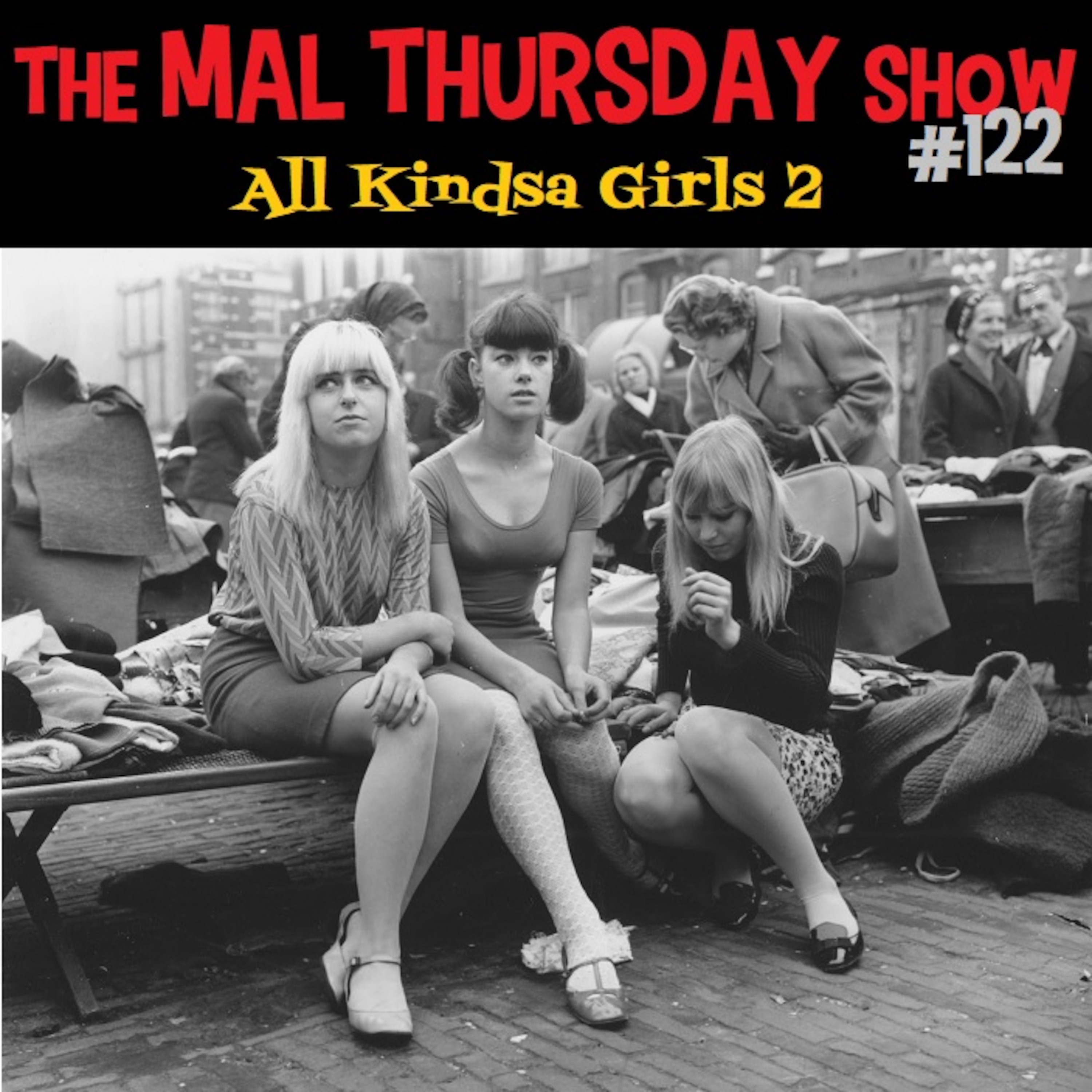 Mal Thursday presents a long-overdue sequel to 2009's "All Kindsa Girls" episode (#11), another bunch of songs with "Girl" in the title. For a more mature variation on the theme, check out "A Hot Pool of Woman Need" (episode #88), which is all songs with "Woman" in the title. Originally broadcast January 23, 2018. Presented in Ultrasonic Stereophonic and Living Monophonic Sound.
Playlist:
ERNIE K DOE: Here Come the Girls
THE COASTERS: Girls Girls Girls
DAVID JOHANSEN: Girls
ANDY WILLIAMS: Music to Watch Girls By
THE WOGGLES: What Kind of Girl
REIGNING SOUND: North Cackalacky Girl
THE DEEPEST BLUE: Somebody's Girl
THE BOB CREWE GENERATION: Music to Watch Girls By (bed)
THE BEATLESS: Girl
THE BEACH BOYS: Girl, Don't Don't Tell Me
THE BYRDS: The Girl with No Name
THE MONKS: Boys Are Boys and Girls Are Choice
SPIRIT: Girl in Your Eye
PAINTED FACES: Girl, You're Growing Up
THE PRETTY THINGS: Street Girl
THE SMALL FACES: Wide-Eyed Girl on the Wall (bed)
FEVER TREE: San Francisco Girls
THE SIX PENTS: Your Girl Too
THE SIX DEEP: Girl, It's Over
THE UGLY BEATS: Girl on the Brain
THOSE ROGUES: Girl
J.D. ROGUES: Why Did God Make Girls?
THE CRAMPS: What's Inside a Girl?
MUCK & THE MIRES: Poor Little Girl
DEAD BOYS: Little Girl
THE STRANGLERS: Strange Little Girl
THE VENTURES: Georgy Girl (bed)
THE GIRL-GETTERS: The Girl-Getters
THE RATIONALS: Little Girls Cry
THE ROLLING STONES: Backstreet Girl/Some Girls
THE DIRTBOMBS: I'm Through with White Girls
BEASTIE BOYS: To All the Girls/Girls
THE REAL KIDS: All Kindsa Girls (Live)
Tune into The Mal Thursday Show every Tuesday at 8 pm UK, and late nights Thursday, Saturday, and Sunday on Golden Radio/Trash Can Radio, London http://trashcanradio.com/trash-can-radio-live-stream; Thursdays 10 pm Eastern on Surf 97.3 FM, streaming at http://flaglerbeachradio.com.; Fridays 7 pm Europe, 6 pm UK, with rebroadcasts Saturday and Sunday on Radio LUX http://radiolux.es.