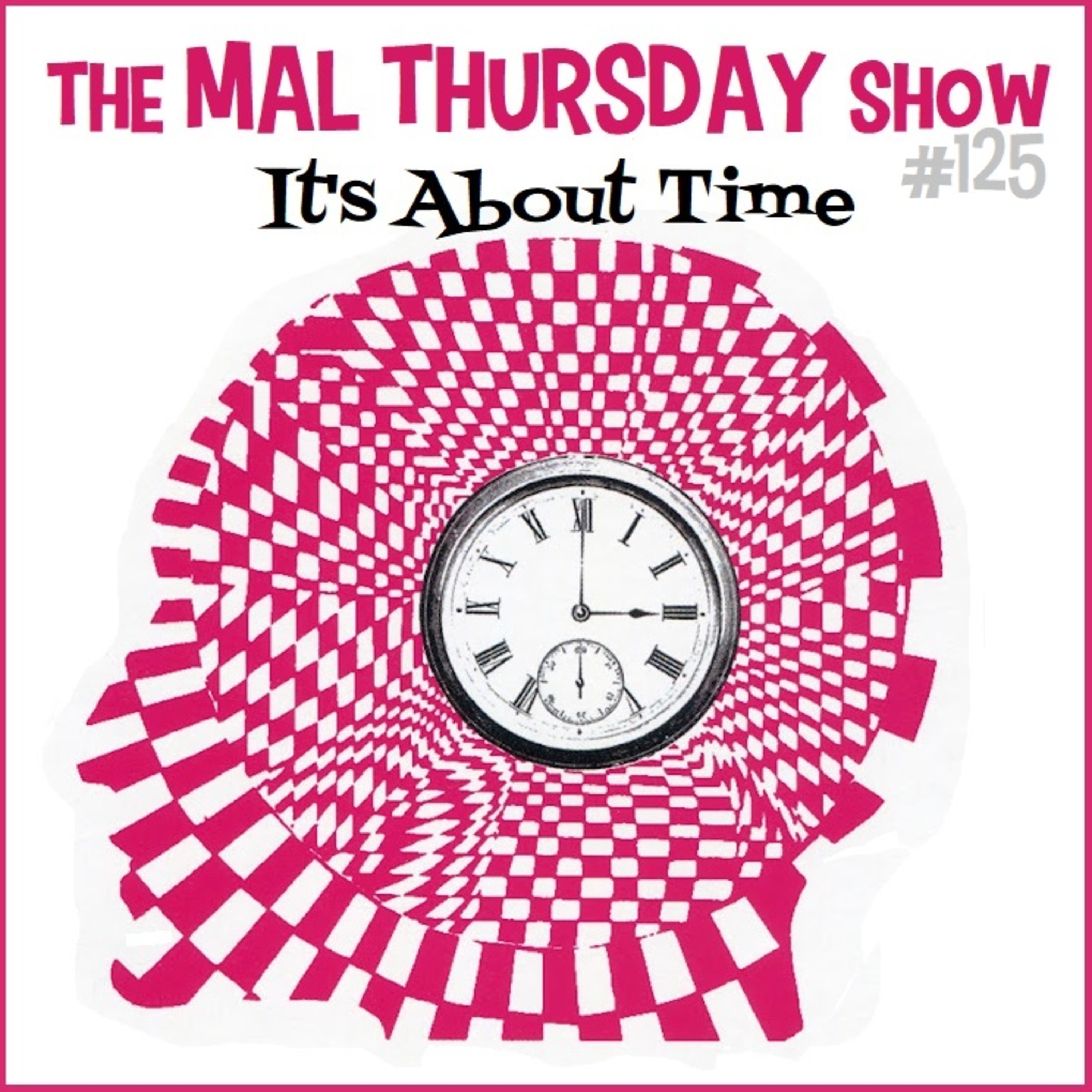 Mal Thursday is the timekeeper and tune curator on this high concept edition of The Mal Thursday Show, in which every song has the word "Time" in the title. Originally broadcast 22 February 2018. Presented in Ultrasonic Stereophonic and Living Monophonic Sound.
Playlist:
THE LIVIN' END: Makin' Time
NICK WATERHOUSE: It's Time
THE CHAMBERS BROTHERS: Time Has Come Today
MONDO TOPLESS: Get Me to the World on Time
THE ZOMBIES: Time of the Season
THE ROVIN' FLAMES: How Many Times
SUZI CHUNK: For the Millionth Time
THE REALLY ROTTENS: It's Monster Surfing Time (bed)
THE ROLLING STONES: The Last Time/Good Time Women
JOEY COVINGTON: I'll Do Better Next Time
THE HOLLYWOOD STARS: King of the Night Time World
MUCK & THE MIRES: Hamburg Time/It Takes Time
THE BEGINNER'S MYND: All the Time/Time Dilation
THE MONKEES: No Time/Good Times
THE KINKS: Time Will Tell
HOUR GLASS: Three Time Loser (bed)
THE THIRD BARDO: I'm Five Years Ahead of My Time
THE GUESS WHO: No Time
THE WOGGLES: No Time to Lose
THE BLIND OWLS: Good Time
THE MAL THURSDAY QUINTET with F. ALEX JOHNSON: Good Times
THE TROPICS: Time (Take the Time)
NEIL DIAMOND: The Time Is Now
BOOKER T & THE MGs: Time Is Tight
Mal Thursday's Texas Tyme Machine:
SATORI: Time Machine
BUDDY HOLLY: Take Your Time
ROY HEAD & THE TRAITS: One More Time
SIR DOUGLAS QUINTET: In Time
THE PATTERNS: In My Own Time
THE GOLDEN DAWN: My Time
THE CONQUEROO: I've Got Time
THE FIVE AMERICANS: Good Times
THE CLUE: Bad Times
NEAL FORD & THE FANATICS: Night Time
WILLIE NELSON: Funny How Time Slips Away
NICK WATERHOUSE: Time's All Gone (Pts. 1 & 2)
Please donate to the show via Patreon at https://www.patreon.com/MalThursday, or via PayPal (https://www.paypal.com/donate/?token=DbIt_0So-22uCeGBf7TAzxYo7HuiOomZiUA-3PHVGsFsclaWjDWv7DHHKoWxZHclN9aF4W&country.x=US&locale.x=US).
Tune into The Mal Thursday Show every Tuesday at 8 pm UK, and late nights Thursday, Saturday, and Sunday on Trash Can Radio, London http://trashcanradio.com/trash-can-radio-live-stream; Thursdays 10 pm Eastern on Surf 97.3 FM, streaming at http://flaglerbeachradio.com.; Fridays 7 pm Europe, 6 pm UK, with rebroadcasts Saturday and Sunday on Radio LUX http://radiolux.es.